The story behind the stats: Investor confidence put to the test
Goodman Report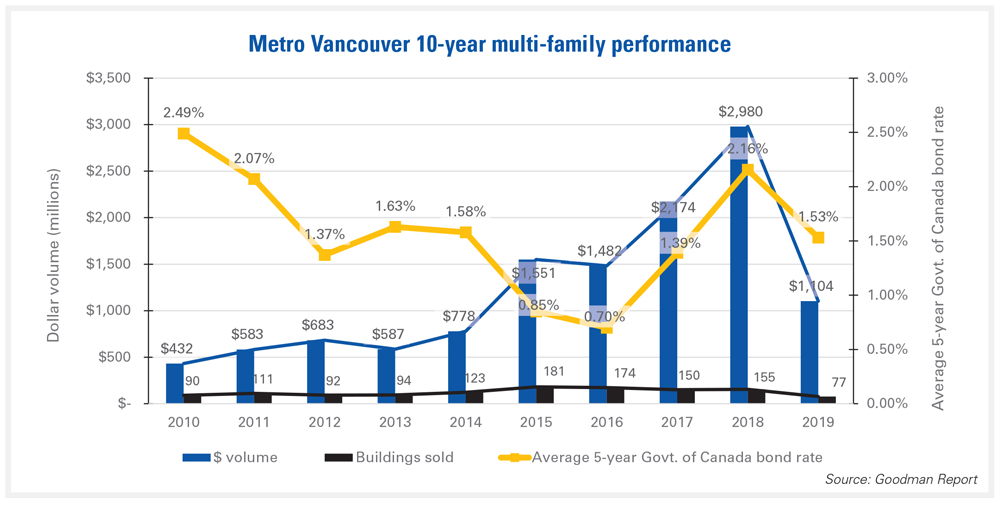 Metro Vancouver transactions, dollar volume and prices decline
The numbers are in. Time to update you on Metro Vancouver's multifamily market, comparing 2019 sales activity with 2018. The numbers are quite … shocking. But perhaps we shouldn't be shocked, considering that the last 18 months were the most challenging we've seen in almost two decades. Massive provincial and municipal government intervention was the main driver, with the rental-apartment sector taking hits right and left.
Metro Vancouver transactions dropped 50%, and dollar volumes declined 63% from a year earlier in 2018. A total of 77 transactions occurred in 2019, compared to 2018's 155. As for dollar volume, 2019 witnessed $1.1 billion as compared to $2.98 billion a year earlier. Corresponding with the decrease in activity and dollar volume, nearly every neighbourhood experienced a decline in average price per suite. Metro Vancouver average prices decreased 30% to $374,000 per unit from $530,000 a year earlier (30% in Vancouver and 19% in the suburbs). This is unsurprising given the upward shift in cap rates as well as a dearth of development site acquisitions which had typically skewed price per unit figures upwards. Investors' expectations for higher yields have increased in the current challenged environment. For example, a couple of years ago, Goodman Commercial was selling prime Westside wood-frame rental stock in the low 2% cap-rate range.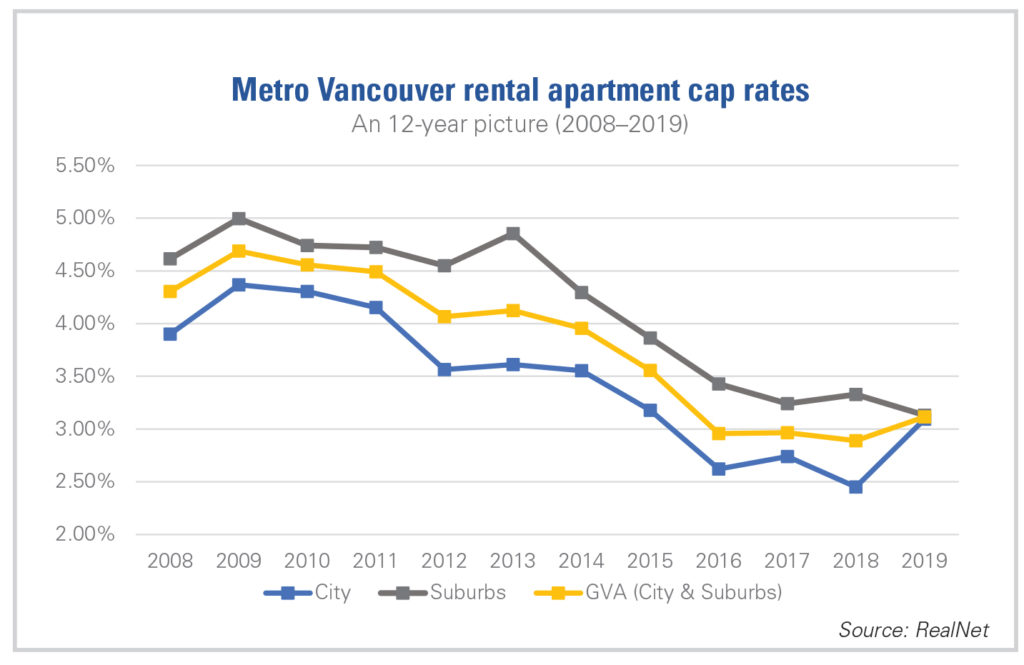 However, the last 4 sales we completed of similar stock came in at a 3% cap rate. What was selling at approximately $550,000 per unit two to three years ago now trades in the low $400,000s. Previously, investors were able to justify the low but temporary cap rates going in, knowing that in the short-to-medium turn, revenue could be increased. With much-needed renovation to the suites and common areas, and often the addition of dishwashers and/or laundry machines in the suites, a building could realize higher rents. However, this value-add type of investor, while still out there, is less prevalent now. Many owners are shying away from renovations for fear of complicated tenant relocation programs, punitive permit processes and negative press coverage vilifying "evil landlords."
Overall, while this may seem like a huge drop, keep in mind that values have, for the most part, doubled in the last decade. It's not surprising to see an adjustment, particularly with the government-induced slowdown.
Some notable highlights
Last year we wrote that the real story behind the stats was all about the dirt. We emphasized that many Vancouver and suburban communities had experienced massive gains in volumes and pricing compared to the previous year, skewed upward almost beyond recognition as developers acquired existing apartment assets for redevelopment.
However, in 2019, municipal policy shifts and provincial taxes dampened land acquisitions. For example, Burnaby implemented complicated, burdensome redevelopment policies such as an aggressive tenant relocation program, a threat of vacancy control and a rezoning application freeze. This resulted in major declines in sales activity, with transactions and dollar volumes dropping by 64% and 48% respectively, and values plummeting 35%. Ironically, these policies, so far, are accomplishing the opposite of what the city wants to do: create more rental housing.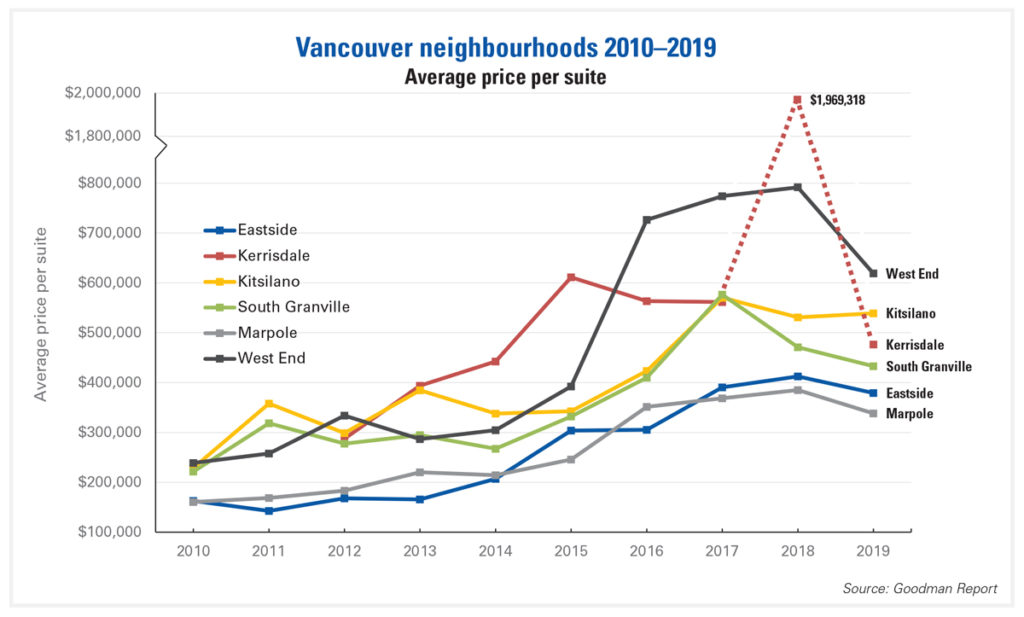 In Vancouver, the West End showed a major decline in activity, from 21 sales in 2018 (many of which were acquired as redevelopment sites) to only 2 in 2019. Average price per unit decreased by 22%; however, we're cautious about drawing conclusions on value as many of the sales a year earlier were concrete highrises or redevelopment sites, typically skewing prices higher. Again, we argue that new government policies have simply created uncertainty for developers and investors—the lack of transactions demonstrates this.
Surrey and Langley saw significant gains in sales volume, with numbers skewed upward due to sales of large new rental construction projects and the acquisition of other, larger rental complexes as redevelopment sites.