Rough surf, but righting the ship
Goodman Report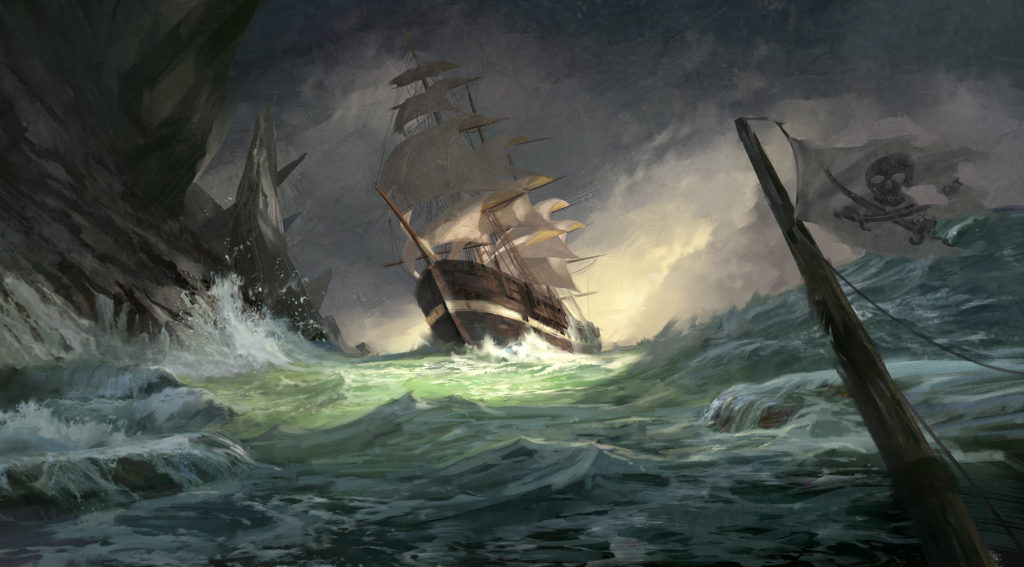 At the beginning of 2019, we wrote about blustery winds buffeting our coast, and we weren't just talking about the weather. Politicians, mostly feeling a need to do something, hit the rental sector hard.
2018 and 2019 saw rent increases capped at CPI, tougher rules for tenant relocation, threats of vacancy control, and the end to fixed-term tenancies and geographic rent increases. Other demand-side government interventions: an increase in property transfer tax to 5% (over $3 million), the foreign buyer tax raised to 20%, rental-only zoning used to downzone in some municipalities, and the addition of school and speculation taxes to development land.
Admittedly, we were disillusioned at the prospects for doing business in B.C., particularly in the rental-apartment sector, which was experiencing aftershocks from this unprecedented provincial and municipal government intervention. We heard from frustrated landlords very much on edge, having a hard time keeping up with needed capital expenditures and concerned about shrinking returns due to expense surges. Add to the mix the never-ending bureaucracy dealing with tenant issues and property renovations, fatigue set in for some, increasingly discouraged at operating in a punishing NDP-era environment. The residential and commercial sectors were also affected—all in the name of making housing affordable.
As expected, the beginning of last year was slow-going. Investors and owners waited on the sidelines, expressing concern about what was coming next. In March of the year, Business in Vancouver (BIV) asked us to participate on a panel titled "Surviving the Real Estate Slump." Our mantra was "It's a standoff, not a slump," and over the next few months following, this came true, as buyers gained confidence and became ready to make decisions.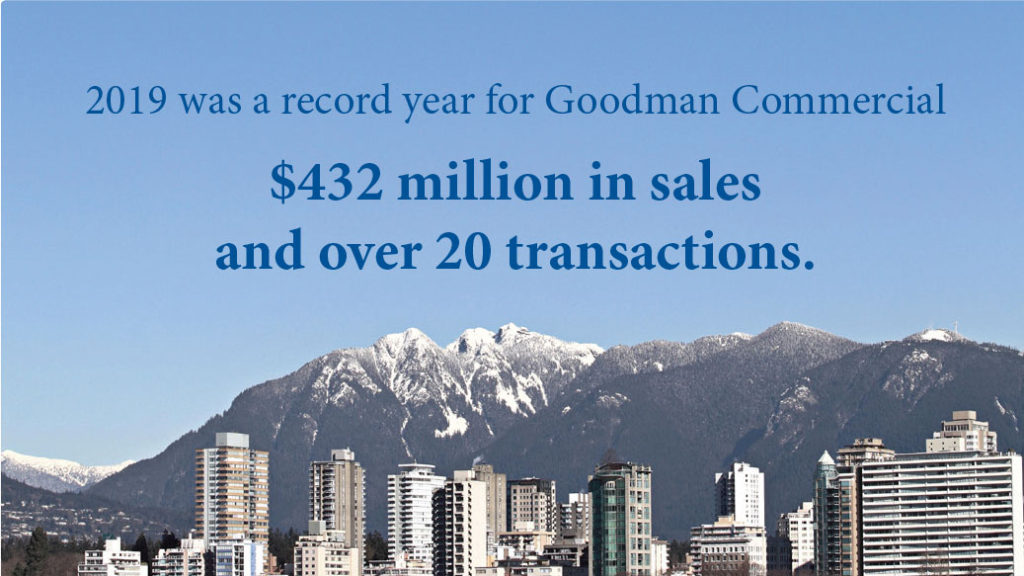 In September, we launched over 20 listings worth $300 million, many of them now already sold. We viewed this as a sign not of panic selling but of renewed confidence, like a changing of the guard. Some owners intending to sell earlier in the year had held off to see how the market sorted itself out. Liquidity returned toward the latter half of 2019, particularly in the last quarter, when we witnessed numerous trades. Many investors with long-term views and experience – particularly the larger family-based owners and institutions – found and continue to find the economic fundamentals enticing, especially the sustained imbalance between supply and demand for rental accommodation. These investors understand that despite the renaissance in the creation of new rental stock in Metro Vancouver, the pace of development remains simply too slow to have an appreciable effect on the almost zero vacancy rate in the region. Developers still face chronically high land and construction costs, municipal red tape and delays, and ever-increasing taxes and fees, all making it a challenge to deliver needed rental stock in a timely manner.
2019 was also a monumental year for Goodman Commercial's speaking engagements, communication pieces and press coverage. At times, our sector felt as if we were amid a storm of never-ending new or proposed government policies intended to fix the market. We stepped up by speaking to reporters, policy analysts, economists, builders, municipal politicians, apartment owners and other real-estate stakeholders in an effort to communicate the facts.
Cynthia Jagger took the lead for Goodman Commercial as a highly sought-after expert discussing rental development, land use, government programs to encourage rental development, and commercial real estate in general. Cynthia's speaking circuit included the Vancouver Real Estate Forum, Business in Vancouver (BIV) and the Urban Development Institute (UDI). In 2020, Mark Goodman will be speaking at the Western Canada Apartment Investment Conference on April 1st and Cynthia Jagger will be speaking at the Vancouver Real Estate Forum on March 31st.

Most recently, we raised the alarm on a contentious issue in an article titled "Councilgate," about a Council motion emerging from the Rental Incentives Review at the City of Vancouver. The motion instructed staff "to prepare a report for consideration for referral to public hearing" that would extend rental replacement requirements to C-2 zoned land. We argued that, if enacted, this would reduce the residual land value of these commercial properties and devalue the land, ironically doing the opposite of encouraging affordable rentals as intended. Yet even more alarming was the final piece of the motion put forward to instruct staff to review:
"The possibility of using zoning similar to the DEOD zoning (60% social housing and 40% rental for anything above 1 FSR) to depress land prices so it will be cheaper to buy for non-market housing."
In his Price Tags blog, Gordon Price concluded on what he facetiously called our "Goodman Gate" article with the following: "Gee, I wonder which councillor moved that motion. Announcing that the intent of your policy is to sterilize land values so you can pick it up cheap won't go down well in … the business community, or in the courts."
Despite the challenges of 2019, confidence is back, and we predict a solid 2020 for our industry. Since September, Goodman has sold $150 million in development sites and apartment buildings. While prices have come off from the highs of 2016 in some neighbourhoods, the rental sector remains resilient. We maintain that the long-term prospects for our industry are extremely positive. Interest rates are expected to hold at their current low rates, rental demand continues its upward climb with corresponding increases in rental rates, institutional investors have an insatiable appetite for Metro Vancouver multifamily investment, and population and employment growth remain solid. Most importantly, Metro Vancouver persists as one of the world's best places to live. The multifamily sector will continue to be one of the safest, most reliable investment vehicles for years to come.
Our commitment to you, our readers and valued clients, is to remain ready, willing and able to fight the good fight. We're your trusted source of reliable rental-housing intelligence and an unwavering advocate for growing your portfolio and assisting on the sales side when the time is right. As always, our door is open. Please reach out to discuss any of your real-estate needs.