Sold: BC Place air-rights – $505 million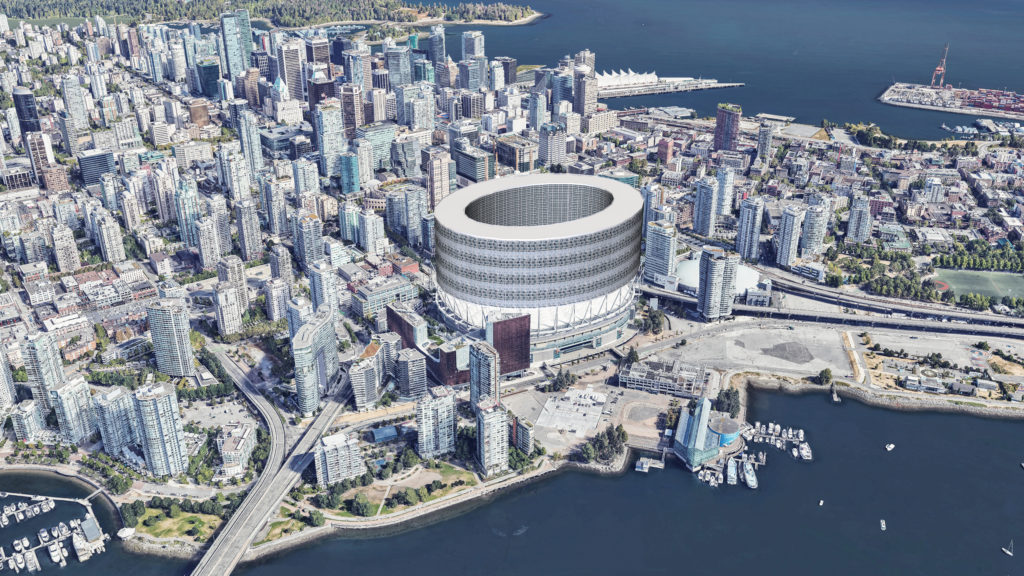 For sale
Air-rights sale
777 Pacific Blvd, Vancouver
Property type
High-density mixed-use development site
Development potential
27 storeys
---
Overview
Goodman Commercial Inc. is pleased to announce the landmark air-rights sale at BC Place – 777 Pacific Boulevard in Vancouver. This transaction represents a once-in-a-lifetime opportunity to develop an iconic project in an under-utilized location in the Downtown area and to advance a world-class amenity package for residents and surrounding neighbours.
Location
The property is located in the Northeast False Creek neighbourhood in Downtown Vancouver, south of Rogers Arena and opposite the Plaza of Nations. The site is situated steps to the False Creek Seawall and within walking distance to Stadium-Chinatown Station, restaurants and shops in Yaletown, and the downtown financial district. It falls within the BC Place / Expo District (BCPED) zone, which was adopted in 1986 and which has been frequently amended as sites in the area have been developed.
Existing improvements
The 14-acre site is currently improved with BC Place Stadium, owned and operated by B.C. Pavilion Corporation (PavCo). The multi-purpose stadium was built in 1983 and renovated in 2010, with the $500-million installation of the largest cable supported retractable roof in the world. The stadium features capacity for 54,500 people, is home to the BC Lions and Vancouver Whitecaps, and has hosted signature events such as the opening and closing ceremonies of the 2010 Winter Olympics and Paralympics, and the 2015 FIFA Women's World Cup. It is also one of two Canadian venues selected to host matches during the upcoming 2026 FIFA World Cup. The existing structure will be retained in the development scenario under the terms of the sale.
Opportunity
Commissioned architectural work by Ankenman Marchand Architects proposes a 27-storey commercial-residential extension, with 'ground level' features starting at 300 feet above the street. The proposal envisions 4,995,000 SF of gross floor area, made possible thanks to the structural reinforcement added in the 2010 re-roofing project. The unique, open-centred circular design will preserve natural light on the athletic playing surface, while also offering project buyers a front-row seat to the many events hosted annually.
Due to the project's rare design, the efficiency ratio will fall in the range of 70 percent, resulting in a net rentable area just below 3,500,000 SF. The development will feature a mix of market rental and below market rental housing, with retail at the lowest level, bringing 4,662 suites to the market by 2030.
City of Vancouver planning have indicated a willingness to relax view cone and shadowing policies in a show of support for the significant number of micro suites to be made available at below-market rates. This project supersedes a conditionally approved rezoning application for a 400-foot tower adjacent to the stadium, which would have similarly pierced into long-established view cones.
Senior planning staff called the proposal "visionary" and commented this application is a progression of the much-loved "Tower in the Park" to a newly minted "Tower above the Park" concept.
Amenity package for residents
State-of-the-art pool and fitness facilities will be available on the rooftop at level 57, along with a running track, pond and forested nature path. Art installation space with rotating shows every 90 days will be located on level 25. Work from home spaces with playgrounds, skill hill and movie theatre for 1,000 guests will also be part of the amenity package. Residents will be provided with access to the stadium on non-event days as a one-of-a-kind recreational amenity. Power walking classes will be complimentary for BC Place concourse laps and the food court will be open for smoothies and health food on Monday and Thursday mornings.
Future opportunities
Beyond the BC Place air-rights sale, and given economic uncertainties and anticipated provincial deficits, additional opportunities to diversify provincial revenue sources are being sought. These include:
Opening access to the green-roof at the Vancouver Convention Centre for overnight camping managed by BC Parks;
Bungee jumping and repelling opportunities from Lion's Gate Bridge; and
Opening a revolving restaurant with glass floors suspended below the Second Narrows Bridge.
Please feel free to call Mark Goodman or Cynthia Jagger to learn more about this transaction or what an air-rights sale and marketing process might look like for your property…or not. Happy April Fool's. 
---
Contact
Goodman Commercial Inc.
560–2608 Granville St
Vancouver, BC V6H 3V3
Ask us about this listing