Goodman Report
Suburbs buzz with new rental activity; City of Vancouver sleeps at the wheel
Officially one year into the mandates from Vancouver's new mayor and councillors, we're also about to hear back on the City's potential new rental supply programs and policies in the next couple of weeks. Seems like an opportune time for us to update you.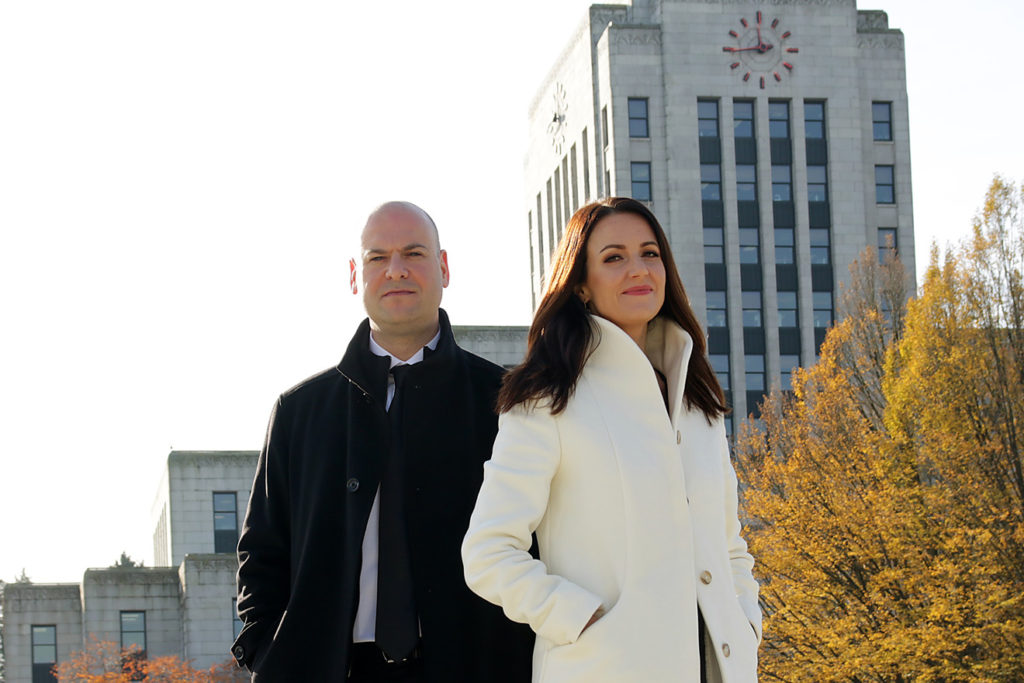 ---
For Metro Vancouver as a whole, below you'll see our latest breakdown by city of new rental units in the pipeline. A few highlights:
City of Vancouver: Completions are down year over year. Yep, we said down! By our count, only 947 rental units will open their doors in 2019. This is about 30% fewer than the 2018 figure of 1,364. Time to shake things up and really get a meaningful number of units completing in this city.
Suburban completions: Up almost 6 times year over year!

Burnaby and Surrey: Starting to show some leadership with big changes in completion rates.
Coquitlam: Showing further strength in approvals but not translating yet to meaningful completions.
New Westminster: Higher completions for 2019 at 548 units but much lower numbers of approvals and projects in the pipeline. Bad policy moves starting to show up, notably a requirement of below-market units as a condition of rezoning under its Secured Market Rental Housing Policy. While this sounds well-intentioned, it will surely push many projects into the "non-feasible" category.
City of North Vancouver: Continues to be Metro Vancouver's beacon of light. While the City's policies have become slightly more restrictive, the results speak for themselves. A small municipality packing a lot of punch.
Region's construction pipeline picks up slightly, but the devil's in the details
Across Metro Vancouver, approximately 20,213 units (200 development sites) are in the pipeline as of November 2019. Of these, only 5,067 units (50 sites) are actually under construction and scheduled for occupancy over the next 3 years (an average of 1,689 per year). The remaining balance of 15,146 units (150 sites) are proposed or approved. If built, these would require approximately 3–7 years before completion and occupancy. This is an average of approximately 2,163 units a year over the next 7 years for the whole region.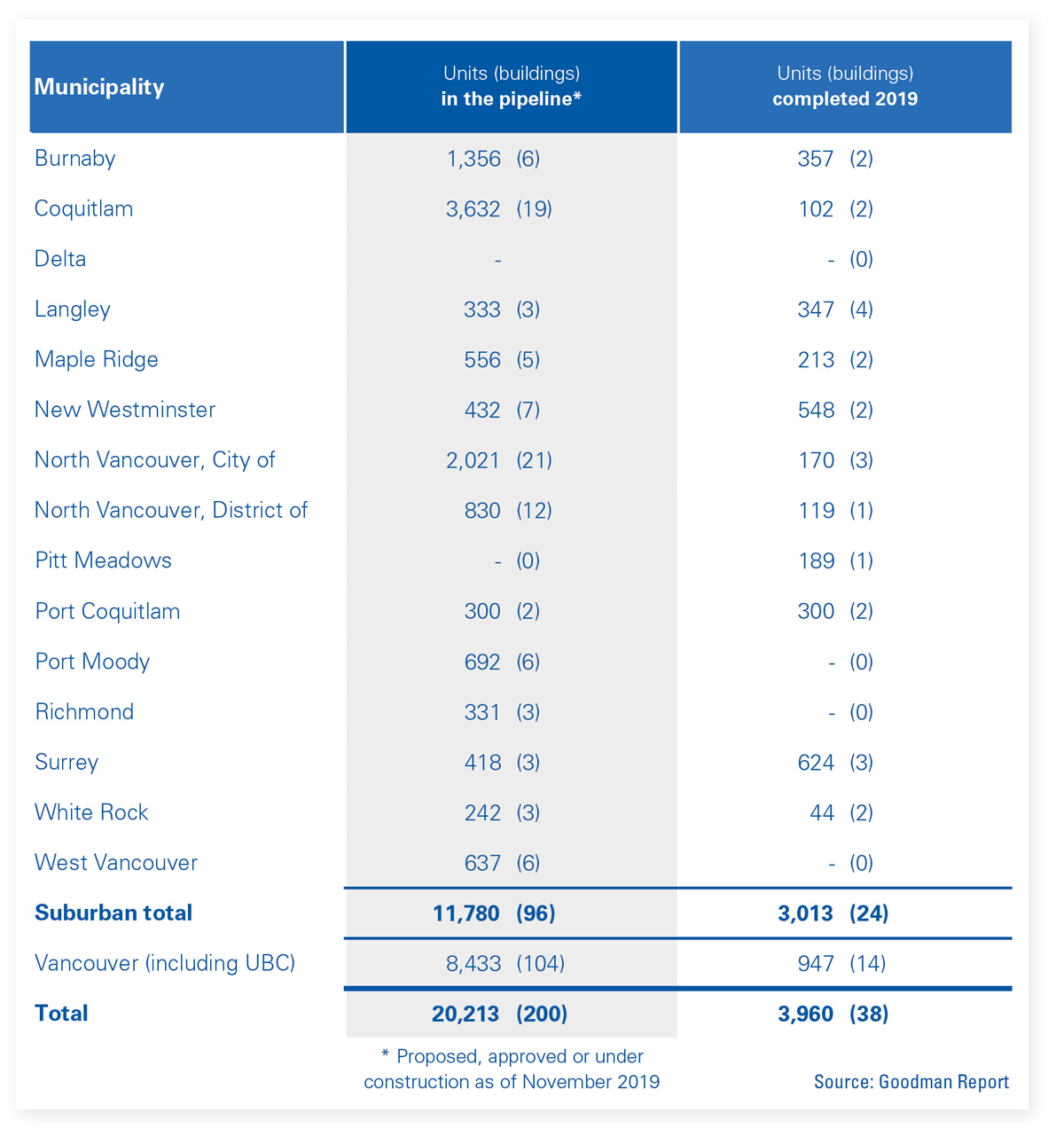 In Vancouver, it's "No way" rather than "Hello" to something fresh
Looking at CMHC's 2018 Rental Market Report, the City of Vancouver has a total of 57,814 purpose-built rental suites (not including condo rentals). Cumulatively, municipal policies over the past 10 years have landed us with vacancies at 0.8%. It's troubling from an aspiring tenant's viewpoint that only 1,360 market units were added in 2018, with only 947 expected this year and approximately 1,670 units in 2020. These are damning statistics indeed, considering that approximately 650,000 residents live in Vancouver alone, 36.5% or 237,000 of whom are renters, according to CMHC. Unlocking the 8,000 units stuck in the proposed and approved categories is key. Will they ever come to light?
Suburbs are still where it's at
In suburbia, there are 51,475 suites in 15 different municipalities. Overall, the suburban vacancy rate of 1% (CMHC) is scarcely better than Vancouver's. Yet some municipalities have been far more welcoming to rental development than others. Kudos to Coquitlam, Burnaby, the City of North Vancouver, New Westminster, Maple Ridge and Surrey for creating viable programs to enhance new rental supply. Their tenant populations will benefit immensely by gaining access to expanded rental housing choices.
Certain other communities, however, have done less well. Port Coquitlam, Pitt Meadows, Richmond, West Vancouver and White Rock have performed poorly. Delta, with zero rentals scheduled, deserves the penalty box.
Well-meaning province offers little help
To be fair, municipal policy alone can't be blamed for lack of new rentals. We hold the provincial government partly accountable for changes contrary its own stated wish for more rental housing. While some municipalities were dreaming up new programs to incentivize home builders and benefit future renters, the province did them all a disservice by reducing the allowable rental increase formula for new construction. While this well-intentioned measure was meant to protect those currently living in affordable units, it has had a negative effect on the valuation of future new purpose-built rentals. If a building comes to be worth less while costs continue to escalate, the results are projects shelved or reimagined (back to condos?), design reconfiguration and delays, or simply selling and moving on.
The next 18 months will show how much our province and cities really want much-needed secured purpose-built rental housing. Focused, reasonable and predictable will be words to live by. In the meantime, at Goodman we'll continue to draw on our ongoing research to keep you updated on the status of active purpose-built rental construction, approvals and proposed projects.