Sold
Norquay Village Dev Site
5000 Block Earles St, Vancouver
---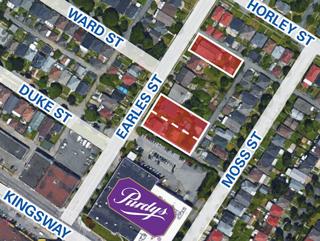 Lot size
19,580 SF + 9,790 SF= 29,370 SF
Zoning
RM-9AN Apartment Transition Zone
Floor space ratio
Up to 2 FSR
PID
011-492-376, 011-492-384, 011-492-431
Legal description
Lot 12, 13 & 17 Except The East 10 Feet, Now Lane Block 5 District Lot 37 Plan 4564
---
Overview
Norquay Village multi-family development site — up to 2.0 FSR & density bonus set at $18.59 PSF (waived for secured market rental).

To acquire a redevelopment site in Vancouver's vibrant Norquay Village neighbourhood on the 5000 Block of Earles Street, just off Kingsway. The offering consists of 3 large single family lots, two of which are contiguous starting on the southern corner portion of the block with combined dimensions of 110' × 178' totalling 19,580 SF. The third lot is on the northernmost corner with dimension of 55' × 178' totalling 9,790 SF. These lots are pre-zoned and therefore no rezoning is required.
Development Potential
The subject properties fall under the Norquay Village Neighbourhood Centre Plan which allows for three/four-storey multi-family development. The two contiguous lots on the southern part of the block allow for a density of up to 2.0 FSR. The northernmost lot allows for up to 1.5 FSR and with an additional lot, it would also qualify for up to 2.0 FSR.
---
Location
The Norquay Village neighbourhood is located in East Vancouver, with Kingsway being the centre artery. Primarily a residential neighbourhood with single detached homes, the area will soon see rapid change with the addition of apartment projects due to the recent zoning amendments in February 2016.
The 29th Avenue Skytrain Station is a 9 minute walk and ensures easy transportation to Downtown. John Norquay Elementary is a 5 minute walk. Located two blocks to the south along Kingsway are numerous amenities such as Shoppers Drug Mart, the Royal Bank and many cafes and restaurants. Just a few blocks away at 2220 Kingsway, Westbank's "Kensington Gardens" will provide 428 new homes, a premium supermarket and other retail amenities.
---
Norquay Village Neighbourhood Centre Plan
Policies
Low-rise Apartment District Schedule. Draft a new District Schedule and Guidelines for a Low-rise Apartment Transition Zone generally as described below. Ensure all new development within the Zone meets high standards of quality, character, landscape, and neighbourhood fit.
Units for Families. Any new low-rise apartment development within the Transition Zone should be required to provide 3-bedroom units for a minimum of 50 percent of the total unit count.
Basic Development Parameters:
Allowable building density: 1.5 to 2 FSR (depending on lot size)
Allowable unit density: 72 dwelling units
Maximum allowable building height: 45 feet
Minimum site sizes: to be determined
Minimum setbacks: to be determined
Rear yard requirements will be minimized to enable buildings to more fully utilize the depth of lots and in recognition of the potential for four storeys or more rear walls for development along Kingsway.
Minimum building articulation: 2 or more major exposures per dwelling unit
Bonus density — 2017 set at $18.59 on additional density (waived for secured market rental)
---
Gallery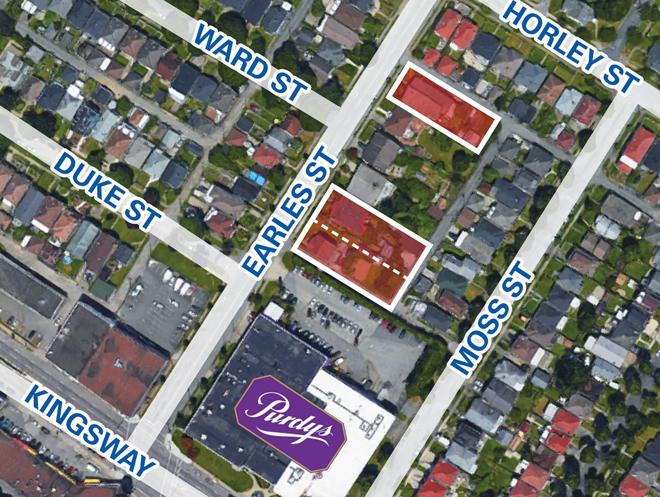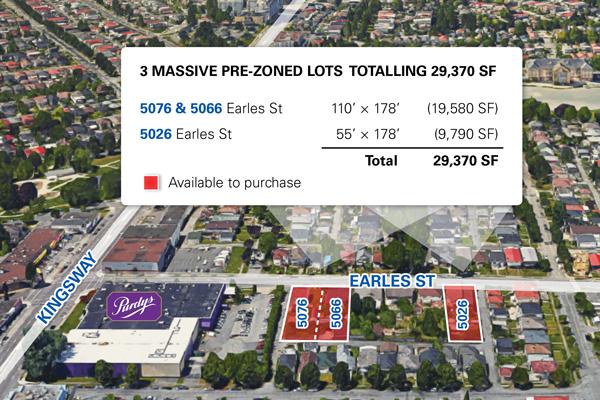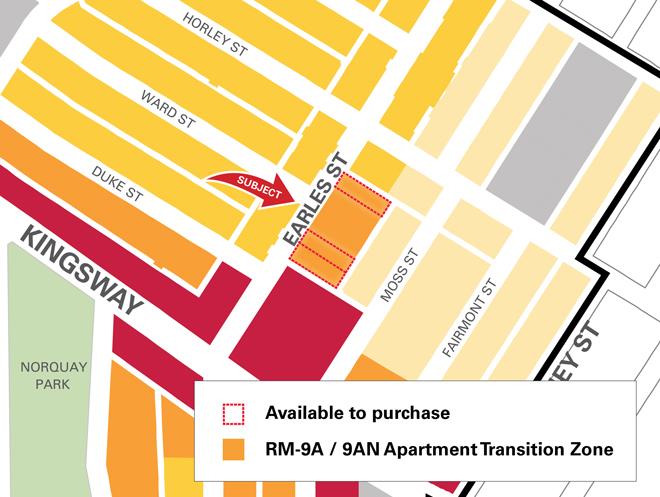 ---
Map