Off Market
Development site in Oakridge area
17, 23, 29 & 35 W 41st Ave, Vancouver
$10,740,000
---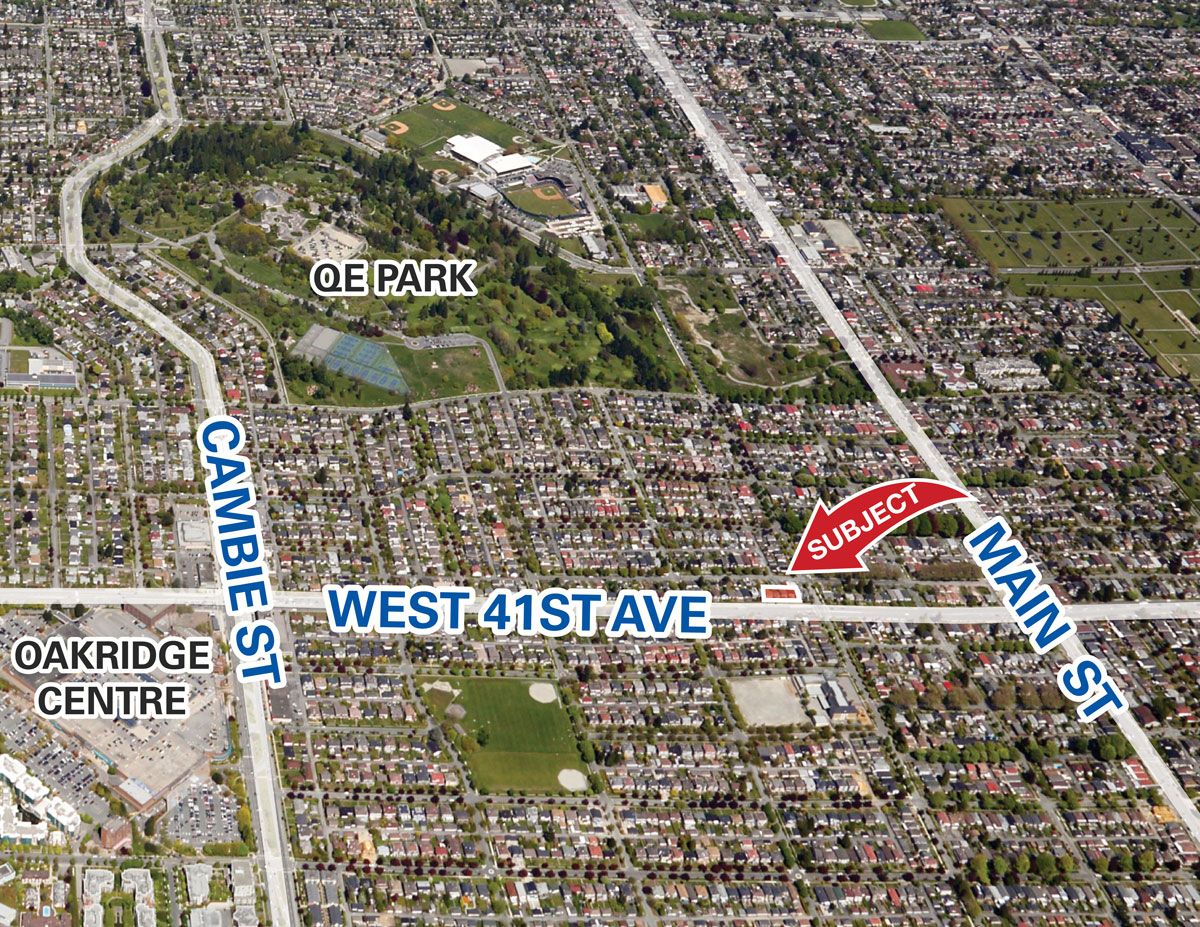 Property type
Multi-family development site
Year built
Current improved with 4 single-family homes built between 1945–2014
Lot size
130' × 112' (14,612 SF)
Floor space ratio
1.93 FSR (28,201 SF buildable)*
Development potential
Under the Cambie Corridor Plan, zoning permits apartment development up to 4 storeys (1.25–1.75 FSR)
Price per SF buildable
$381–$420
(based on 1.75–1.93 FSR)
PID
011-571-292, 011-571-284, 003-428-770, 011-571-276
---
Overview

The neighboring sites, 11 West 41st Avenue and 5685 Ontario Street, totaling 7,022 SF (62.7' × 112'), is available for purchase.
Conveniently located in the rapidly transforming Oakridge neighbourhood, this 4-lot assembly presents an opportunity to develop up to a 4-storey apartment building under the Cambie Corridor Plan. The subject site is elevated from West 41st Avenue, visually decreasing drive-by traffic volume from living spaces and increasing view potential for future development. This unique offering also fronts West Woodstock Avenue at the northside of the property, adding to the array of possible building design.
The plan supports a FSR in the range of 1.25 to 1.75 but also indicates that development potential for each site may fall within, below, or above based on the intended urban design performance. Several neighbouring sites with similar zoning have achieved densities ranging between 1.86 to 1.93 FSR. This unique opportunity has resulted in applications for both a 4-storey apartment building and a 4-storey townhome project, providing diverse development potential.
Assuming a 1.93 FSR based on these neighbouring developments, this represents a density of up to 28,201 SF.
*Similarly zoned neighbouring properties have achieved densities ranging from 1.86 to 1.93 FSR.
---
Location
17, 23, 29 & 35 West 41st Avenue, Vancouver
This redevelopment site is positioned in one of Vancouver's fastest growing neighbourhoods.
Oakridge is arguably one of the most conveniently located neighbourhoods in Vancouver. Its central location provides quick access to other areas of the city and is a short driving distance to key arterial routes connecting the rest of the region.
The subject property is centrally located between Cambie & Main Street on the northside of 41st Avenue and is within a 10-minute walk to the Oakridge Canada Line Skytrain station. Additionally, this walkable and transit friendly community is a short distance to many of the city's most desirable amenities including Cambie Village, Queen Elizabeth Park and Oakridge Centre.

Oakridge Centre's redevelopment into a new, urban world class community represents one of the city's largest developments in history and will include a mix of new commercial and public amenities.
---
Recent and Upcoming developments in the immediate area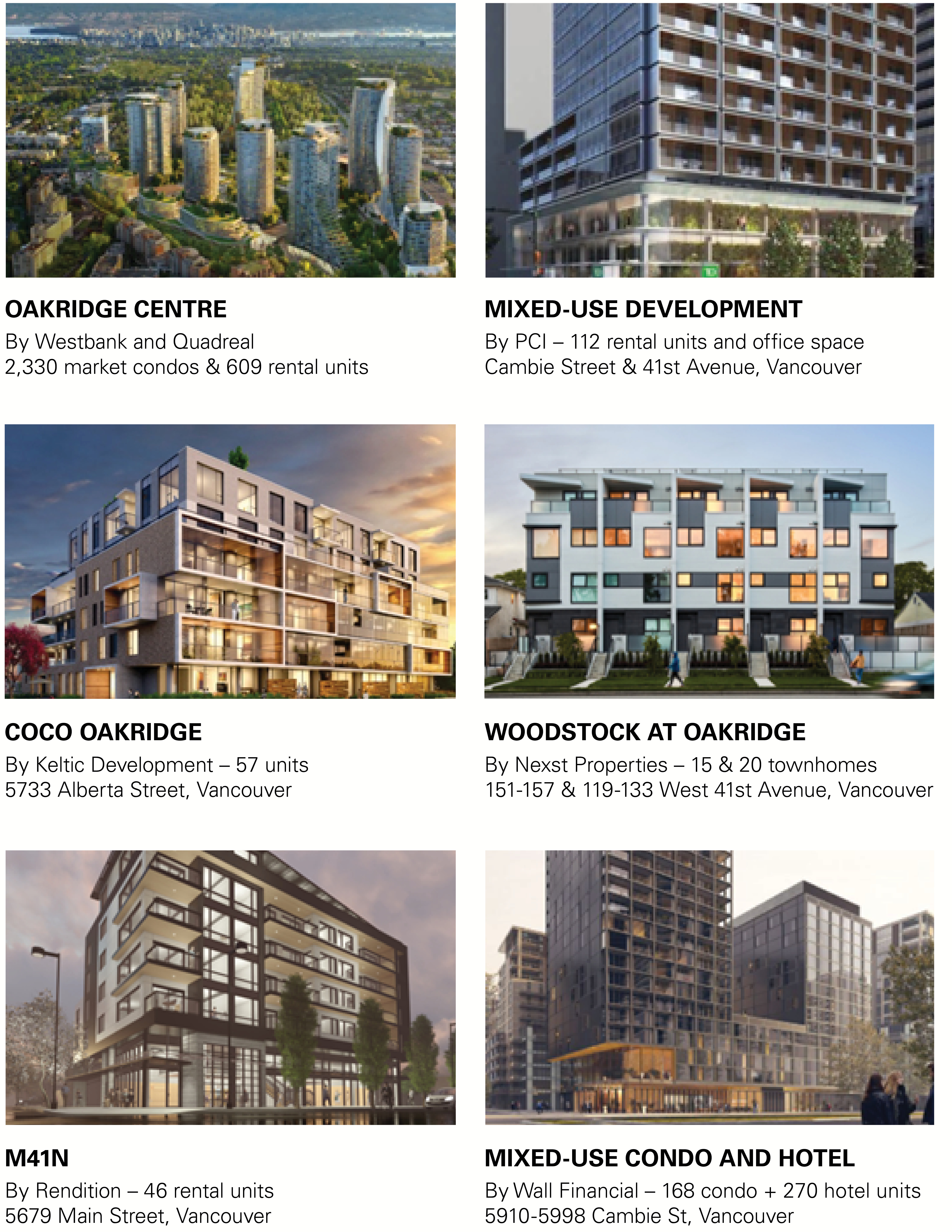 ---
Financials
Financing
Treat as clear title.
Assessment 2021

Land

Building

Total

Taxes 2020

$32,528

Notes

For more information, please contact the listing agent.
---
Gallery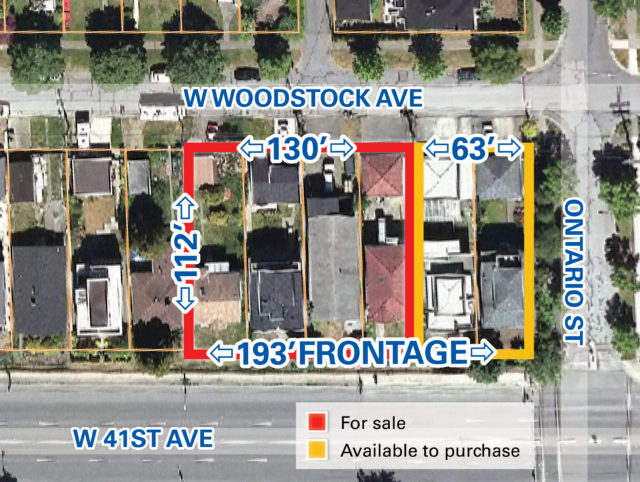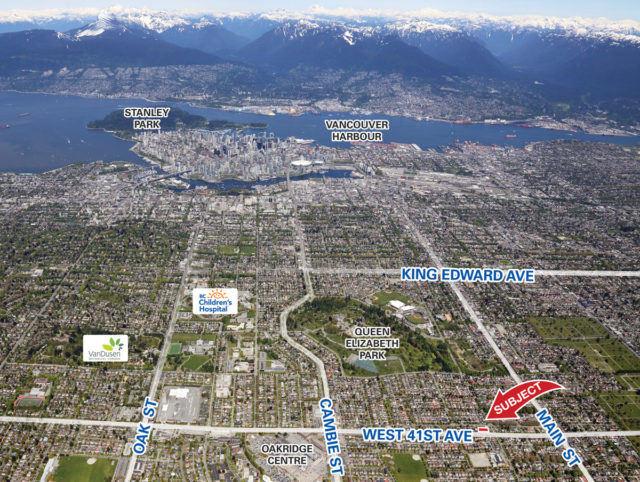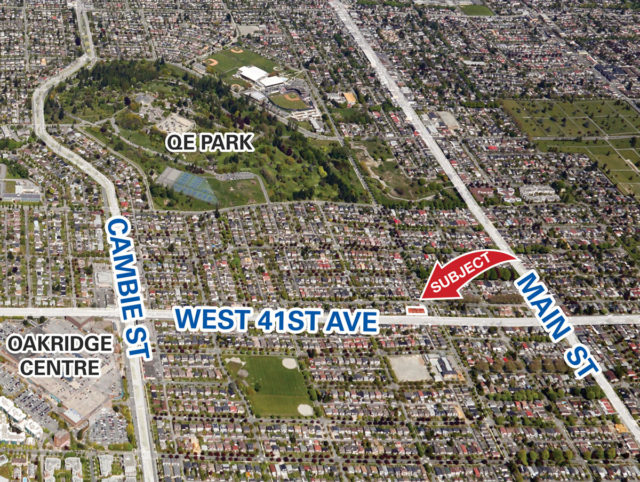 ---
Map