New housing program specifics
Goodman Report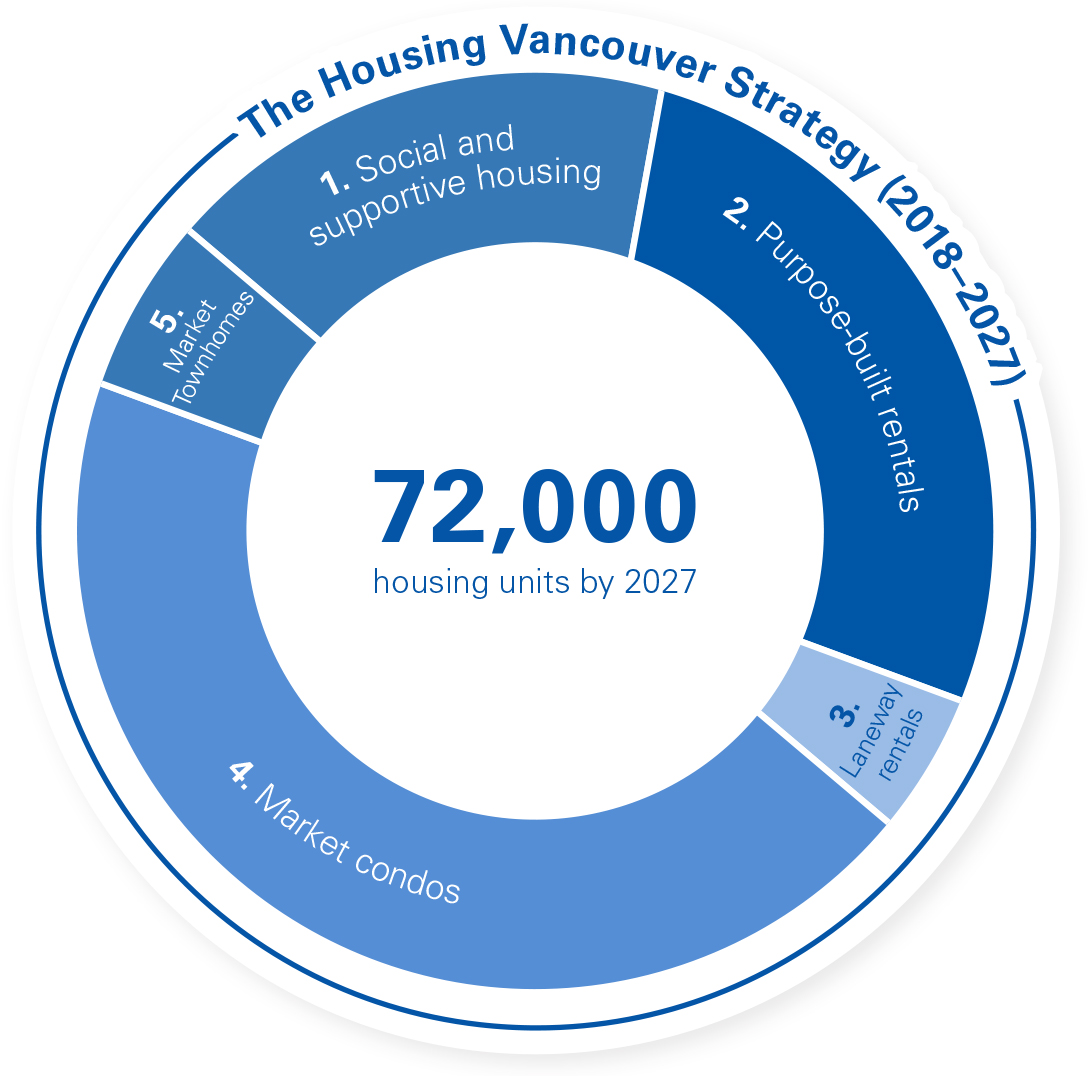 Metro Vancouver's population has suffered through years of benign neglect during which various levels of government have displayed only token measures toward addressing chronic issues with housing supply and pricing. With housing inequity evolving into an untenable political crisis, both the B.C. government and the City of Vancouver, to address the affordability issue and the non-availability of certain housing types, have finally introduced a newly minted agenda for major segments of the population. We can now expect a stepped-up emphasis on social and supportive housing and increased support for purpose-built rental units.
The Housing Vancouver Strategy (2018–2027) provides the principal example of these new directions. Through this policy, the City intends to add a total of 72,000 housing units by 2027, as follows:
The Housing Vancouver Strategy (2018–2027)
1. Social and supportive housing
12,000 units
2. Purpose-built rentals
20,000 units
3. Laneway rental housing
4,000 units
4. Market condos
32,000 units
5. Market townhomes
4,000 units
Total 72,000 units
It's worth noting, however, that Vancouver's population, now approximately 640,000, is expected to grow over the same period to approximately 715,000. The city's housing problems will not be easily resolved, even with this high-profile program.
Beyond Vancouver's new housing strategy, the B.C. government has struck a new Rental Housing Task Force to modernize the province's tenancy laws. Notwithstanding the need for review of the proposed amendments, landlords are wary of the implications and how it could negatively impact their holdings.
New supply in the pipeline (mid-2018)

Across Metro Vancouver, at this point in the market cycle, there are 177 proposed, permitted and under-construction rental projects that have the potential to add up to 17,296 suites. It is expected that these units will be added to the rental stock over the next five years.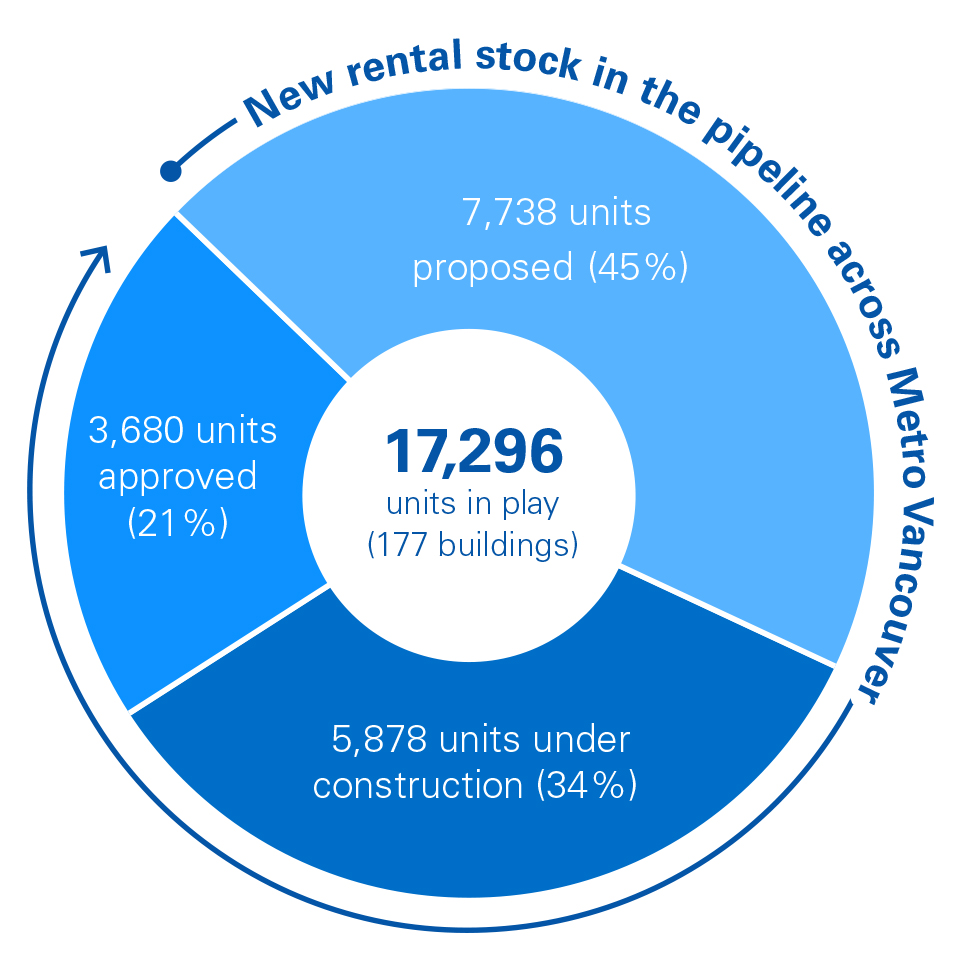 At the time of this writing, Vancouver has 99 rental projects in the pipeline, 28 of which are situated on the Westside, 25 in Downtown and 46 on the Eastside. Together, these comprise 7,316 rental units under construction, approved and/or proposed, all to be finished by 2023 or earlier. Beyond these 99 projects, we're aware of 737 newly built suites in 8 projects added to Vancouver's rental inventory so far in 2018.
In the suburbs, 78 projects are in various forms of development, representing 9,980 suites, all slated for completion by 2023 or sooner. Additionally, we have tracked 528 suites of newly added inventory in various communities delivered to date in 2018, representing 3 separate rental projects. For a complete breakdown of new rental stock by community, please refer to page 4.
Up until about five years ago, many landlords and developers would expand their rental portfolios by purchasing existing assets. Now, however, we're faced with a preponderance of aging, inefficient product and scarce availability combined with poor economies of scale. Developers able to tap into municipal density incentives for new rental construction are not only building projects on spec but also interestingly retaining new rental buildings for their own account. On page 4, you'll find an updated comprehensive survey that breaks down new purpose-built rentals in various stages of development throughout Metro Vancouver.