Podcast: Ever wonder what it's like to put together some of the biggest real-estate transactions in Vancouver?
Mark was recently featured on the Vancouver Real Estate News podcast – and it's a fun, informative ride. From current market insights to the humble beginnings of the Goodman Report, listen as Mark does a deep dive into the fascinating world of Vancouver's multifamily real estate market, with case studies and calculations big and small.
You'll also hear his inside stories, from camel riding in Egypt and a high-speed Ferrari ride on Georgia Street to secret sales tactics learned from the Mossad and the name of his favourite bar. Join us!
---
Episode Summary
Ever wonder what it's like to put together some of the biggest real-estate transactions in Vancouver? Mark Goodman, principal of Goodman Commercial Inc. and copublisher of the popular Goodman Report, was behind a quarter of those transactions in 2019. In this video and podcast, Mark joins Adam and Matt to dive deep into the fascinating world of multifamily real estate in Vancouver, with case studies, calculations big and small, and inside stories. This is the multifamily primer you've been waiting for, and it doesn't disappoint. Welcome!
Who is Mark Goodman?
Mark is a principal at Goodman Commercial Inc., a commercial real-estate firm. He's also a copublisher of the Goodman Report, a popular data-driven real-estate news source. He's been in real estate for 18 years. Early in his career, Mark worked at the Jim Pattison Trade Group, an import/export division of the Jim Pattison Group. In 2002 he joined his father David Goodman as part of Goodman Commercial Inc. In 2016, they partnered with Cynthia Jagger, formally a director of the national appraisal firm Altus Group.
Goodman Commercial Inc. has over 45 years of experience in multifamily apartment sales, commercial properties, development sites and land. Together, Mark Goodman and Cynthia Jagger copublish the Goodman Report.
How did the Goodman Report come to be?
The Goodman Report was started by Mark's father David Goodman, who has worked in real estate since the early 1970s. David worked in the clothing business early in his career but decided to try his hand in real estate after moving to Vancouver from Montreal. In 1979, David became the top salesman in real estate across Canada, working in Richmond and Shaughnessy. Shaughnessy was a very prestigious neighbourhood, as it is today, and David became known in that neighbourhood by publishing a real-estate newsletter. Eventually, David left residential real estate for commercial real estate, working with Vancouver businesspeople such as Nelson Skalbania.
From its humble beginnings, the Goodman Report has evolved into the success that it's known to be. Originally published on paper, it was hand-delivered to every subscriber with a personalized note. Today – published in email, online and in print – it has over 50,000 subscribers.
Can you give us an update on the multifamily real-estate market in Vancouver?
The Metro Vancouver multifamily real-estate market is considered small compared to the markets of other Canadian metropolitan areas. Metro Vancouver has 3,300 purpose-built rental apartment buildings. The average age of the buildings is about 60. Their 2,200 owners range from large developers like Hollyburn Properties to small mom-and-pop investors.
As of early 2019, the return on investment (cap rate) was in the low 2% range for wood-frame buildings. These rates have moved up toward 3% in the last six months, mainly owing to changes brought about by the NDP government in its attempt to cool the real-estate market. Generally, the average cap rate in 2019 was 3.12%, the average vacancy rate was 1.1%, and volume was $1.1 billion in sales – based on 77 transactions completed during the year.
Are you seeing the same cool-down in the multifamily real-estate market that we have been seeing in residential real estate since the introduction of the NDP's policies?
Generally, there are some parallels between the two markets, but they're not always in tandem. Different factors affect the multifamily market. For example, in 2018–2019, we saw rent increases capped at inflation, tougher rules for tenant relocation, threats of vacancy control, ends to fixed-term tenancies and geographic rent increases. On the demand side, we saw government interventions including increases in property taxes to 5% for properties over $3 million, foreign buyer tax increased to 20%, rental-only zoning used to downzone properties in some municipalities and the addition of school and speculation taxes to development lands. Combined, these factors have affected the multifamily market negatively. These government initiatives geared toward making housing more affordable have done the opposite. They've discouraged developers from developing rental housing. Year-over-year vacancy rates continue to go down, while rental rates continue to go up. We have a demand-supply imbalance that's not going anywhere. There's simply not enough supply to house everyone moving here, and rental rates will continue to go up.
When the NDP put its policies in place, the multifamily market dropped significantly. Transaction and dollar volume dropped by 50%–60%. This hasn't made our city more affordable; in fact, it has made everything more expensive because there is nowhere to live and little incentive for developers to build rental buildings. COVID-19 has introduced more challenges to the market, but people are continuing to do business through new methods, including longer close periods, physical distancing and electronic methods.
Where are buyers of purpose-built rental buildings coming from? How is purpose-built rental value established?
Generally, investors for purpose-built rental buildings have been local. Even before the foreign buyer tax, the buyers were mainly local or from other places in Canada. When we examined our last 200 transactions, only two of the buyers would be considered foreign (one from Austria and one from Shanghai). Now that the foreign buyer tax was introduced, the purchasers are generally all from Canada.
Buyers include mom-and-pop investors; professionals like dentists, accountants and lawyers; REITs and pension funds; and other institutional investors.
Establishing value for rental buildings is usually based on the cap rate (return or yield that the investor can achieve by buying the building). To calculate this, you take the rental income revenue less expenses you would incur, including tax, insurance, utilities, repairs and maintenance, and a nominal vacancy rate of 0.5%. This gets you your net operating income, which is divided into the purchase price to determine the return / yield percentage. This number is before debt service for your mortgage.
Eighteen years ago in the City of Vancouver, cap rates were 6.0%–6.5%. The price per unit for Westside buildings was around $80,000 per unit, the expense ratio was 33%, and average monthly rent was $750. Recently, in 2018, the market was hot, and cap rates were hovering in the 1.8%–1.9% range. People were putting 50%–60% down to buy buildings and received low yields on their money, but there was a reason for that. These investors knew that the buildings were older and in need of repairs. Renovating the suites could generate significant rent increases, causing cap rates to double up close to 5%. This greatly increased the investment return.
This business model is more challenging now. The NDP's policies make the rejuvenation of buildings more difficult, mainly because it may lead to evictions. This is causing some of the older rental buildings in Vancouver to remain old, with no renovations or improvements.
New purpose-built rental buildings coming online today generally have higher cap rates of 4%–4.5%. The reason is that these buildings are immediately rented at market, with no improvements needed for several years. Therefore, the price of a new rental building already contains the lift that the older buildings are seeing. New purpose-built rentals are currently happening, but unfortunately not fast enough to meet the demand for housing. This suggests that this asset class will be a very safe investment for a long time.
Is the multifamily market in Vancouver unique in Canada?
Yes, Vancouver's market is unique because it's smaller than the markets of other major cities and also highly politicized. Vancouver effectively has a moratorium on the demolition of apartment buildings, undertaken to ensure the supply of affordable rental stock and to reduce the displacement of tenants. The intentions were good, but of course the moratorium has created problems. These rental buildings are all sitting on RM-zoned land (rental multifamily). Preventing these buildings from being torn down prohibits developers from using the land to make newer, larger, more efficient buildings. This has had a negative effect on rental supply overall. There's a tug-of-war to make sure people living in the existing buildings are not displaced, while freezing the rental stock and restricting rental supply for everyone else.
The philosophy at City Hall and our province focuses on the demand side of the equation when thinking about affordability. Instead, governments should be focusing on the supply side, allowing people to compete and build rental housing. This would increase affordability and provide housing. This is not as expedient for politicians as limiting demand, and that's why it is not being tackled with the same enthusiasm.
How is COVID-19 (coronavirus) affecting the multifamily real-estate market?
Over the last six weeks, it has been more challenging for brokers to function, but we've adapted very quickly. We've moved to working remotely and digitally.
The hardest part for the rental housing business is that it's challenging to enter suites right now. But deals are still happening, and buyers are still performing due diligence. We've been extending the building inspection timeline for our current deals, hoping to get building inspections done after the COVID-19 restrictions are lifted. In certain owner-occupied situations, we're able to view units if we wear face masks and gloves, with rules that include no touching of anything in the unit.
Business is adapting as we go along. Some of our recently listed properties have seen multiple offers, even just as COVID-19 was on the horizon for Canada. The big picture is that we have a healthy real-estate sector. We don't believe there will be long-term negative effects to the rental apartment sector because of the pandemic. In fact, we sense that apartment buildings will be in high demand thanks to continued low interest rates and the fact that this asset class is regarded as a very safe place to invest.
Mark's top tips
Favourite neighbourhood: Fairview / South Granville or Douglas Park
Favourite bar or restaurant: Published on Main
One book you would recommend to listeners: Rise and Kill First by Ronen Bergman or the works of Eckhart Tolle
One piece of advice you would give your 18-year-old self: Don't smoke cigarettes!
Something you have purchased for under $1,000 that has positively changed your life: SkipTheDishes & DoorDash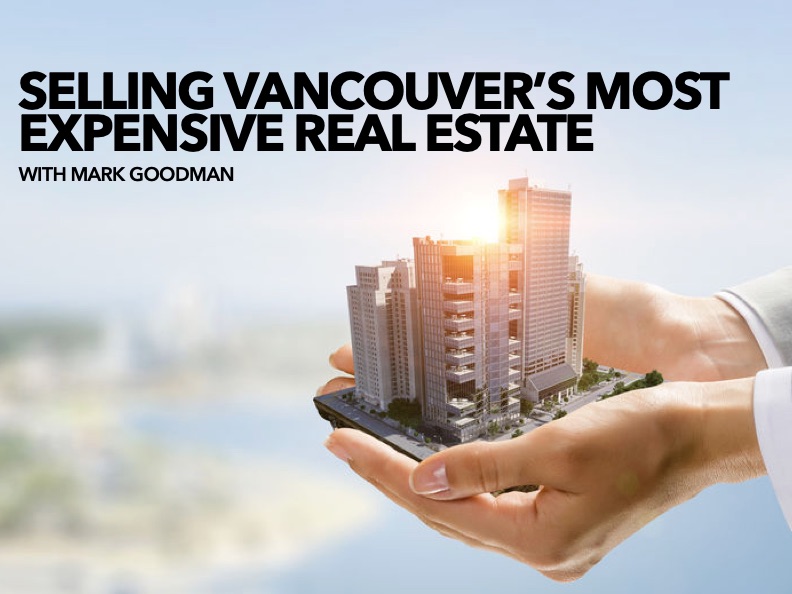 Listen to the podcast: