Goodman Report
April 16, 2018
The market as it relates to multi-family investment can best be described as contradictory.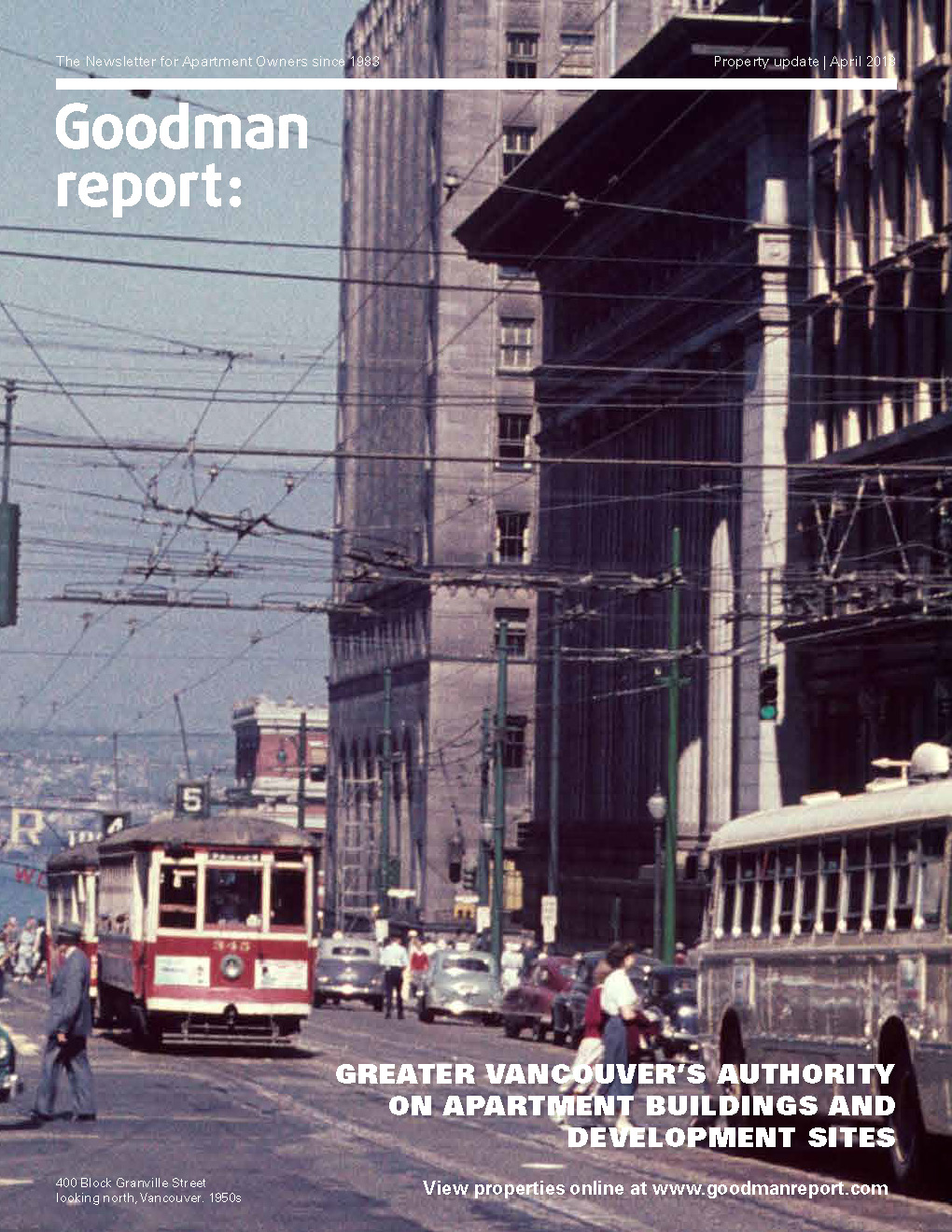 On one hand, BC's provincial government under the NDP are now showing their true colours having zealously embarked on a program to curtail demand, and in turn, attempt to make housing more affordable. They are effectively using the blunt instrument of taxation at a number of levels ranging from the imposition of the speculation and school taxes to an increase in the property transfer tax. Early results for Vancouver show dramatic declines in transactions and average prices for single-family homes.
Additionally, this month the government informed us that they are investigating procedures to disallow property transfer tax avoidance as it relates to assets held by a bare trustee. The government also declared their intention to review the Residential Tenancy Act—probably not a good omen for landlords.
And yet, in spite of the heavier tax burden, the rental investment market is active and performing well so far in 2018, with 53 sales to date versus 44 as of the same time period last year (mid-April). Vancouver's Eastside, the West End as well as Burnaby and New Westminster lead the way in transactions.
However, in spite of strong demand, certain offerings priced well-beyond market are encountering a "cool" reception from investors. In other words, we are seeing heightened sensitivity on pricing. With low cap rates, investors are showing some concern in a rising interest rate environment and are more cautious in how they underwrite rental apartment buildings, often building in some room when financing in order to give a little buffer. Current CMHC insured rates are around 2.90% for 5 years and 3.15% for 10 years. If we look back to December 1st (5 months ago), CMHC insured rates were around 2.50% for 5 years and 2.85% for 10 years. In the last 12 months, the weekly 5-year GoC bond rate has been steadily on the rise, and are double what they were in April 2017.
Tenant demand is strong throughout Metro Vancouver. Many seeking rental housing remain unable or unwilling to own market housing. Long-time tenants are generally fearful of moving to other rental digs as new rent levels for similar housing are typically much higher. As a result, the turnover rate in most buildings has declined significantly—ironically, not what most landlords are seeking.
At present, we are aware of approximately 19,500 new rental units in various stages of development, either being contemplated, approved or under construction in Metro Vancouver—up by approximately 10,000 units since last year. It is expected that all these units will be added to rental inventory by 2022.
David Goodman, Mark Goodman & Cynthia Jagger
The Goodman Report