WI Staff, Western Investor
August 30, 2018
Landlords fear tenant advocates have upper hand as B.C. government moves to amend Residential Tenancy Act

This May the BC NDP government, which earlier had ended fixed-term tenancy agreements, amended the provincial Residential Tenancy Act to require landlords to give tenants four's months notice to end a tenancy in order to demolish, renovate or repair a rental building.
Previously, landlords could evict a tenant for those reasons by giving two months' notice. It is such rulings that have convinced some landlords that a provincially appointed Rental Housing Task Force that has held 11 public meetings as a prelude to changing the act is weighted towards tenants.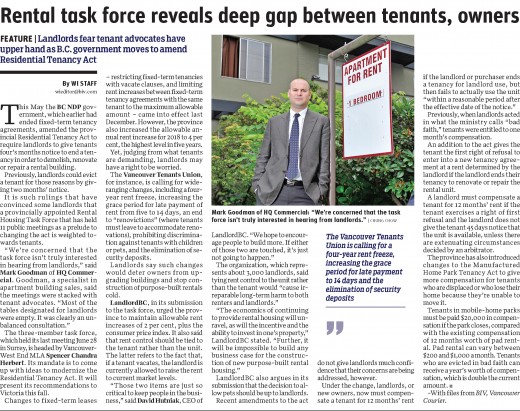 "We're concerned that the task force isn't truly interested in hearing from landlords," said Mark Goodman of HQ Commercial. Goodman, a specialist in apartment building sales, said the meetings were stacked with tenant advocates. "Most of the tables designated for landlords were empty. It was clearly an unbalanced consultation."
The three-member task force, which held its last meeting June 28 in Surrey, is headed by Vancouver- West End MLA Spencer Chandra Herbert. Its mandate is to come up with ideas to modernize the Residential Tenancy Act. It will present its recommendations to Victoria this fall.
Changes to fixed-term leases – restricting fixed-term tenancies with vacate clauses, and limiting rent increases between fixed-term tenancy agreements with the same tenant to the maximum allowable amount – came into effect last December. However, the province also increased the allowable annual rent increase for 2018 to 4 per cent, the highest level in five years.
Yet, judging from what tenants are demanding, landlords may have a right to be worried.
The Vancouver Tenants Union, for instance, is calling for wideranging changes, including a fouryear rent freeze, increasing the grace period for late payment of rent from five to 14 days, an end to "renovictions" (where tenants must leave to accommodate renovations), prohibiting discrimination against tenants with children or pets, and the elimination of security deposits.
Landlords say such changes would deter owners from upgrading buildings and stop construction of purpose-built rentals cold.
LandlordBC, in its submission to the task force, urged the province to maintain allowable rent increases of 2 per cent, plus the consumer price index. It also said that rent control should be tied to the tenant rather than the unit. The latter refers to the fact that, if a tenant vacates, the landlord is currently allowed to raise the rent to current market levels.
"Those two items are just so critical to keep people in the business," said David Hutniak, CEO of LandlordBC. "We hope to encourage people to build more. If either of those two are touched, it's just not going to happen."
The organization, which represents about 3,000 landlords, said tying rent control to the unit rather than the tenant would "cause irreparable long-term harm to both renters and landlords."
"The economics of continuing to provide rental housing will unravel, as will the incentive and the ability to invest in one's property," LandlordBC stated. "Further, it will be impossible to build any business case for the construction of new purpose-built rental housing."
LandlordBC also argues in its submission that the decision to allow pets should be up to landlords. Recent amendments to the act do not give landlords much confidence that their concerns are being addressed, however.
Under the change, landlords, or new owners, now must compensate a tenant for 12 months' rent if the landlord or purchaser ends a tenancy for landlord use, but then fails to actually use the unit "within a reasonable period after the effective date of the notice."
Previously, when landlords acted in what the ministry calls "bad faith," tenants were entitled to one month's compensation.
An addition to the act gives the tenant the first right of refusal to enter into a new tenancy agreement at a rent determined by the landlord if the landlord ends their tenancy to renovate or repair the rental unit.
A landlord must compensate a tenant for 12 months' rent if the tenant exercises a right of first refusal and the landlord does not give the tenant 45 days notice that the unit is available, unless there are extenuating circumstances decided by an arbitrator.
The province has also introduced changes to the Manufactured Home Park Tenancy Act to give more compensation for tenants who are displaced or who lose their home because they're unable to move it.
Tenants in mobile-home parks must be paid $20,000 in compensation if the park closes, compared with the existing compensation of 12 months worth of pad rental. Pad rental can vary between $200 and $1,000 a month. Tenants who are evicted in bad faith can receive a year's worth of compensation, which is double the current amount.