Carlito Pablo, Georgia Straight
November 7, 2018
A pair of Burnaby apartment locations near Metrotown is up for sale.
The asking price in the listing released by real estate company HQ Commercial is $52 million.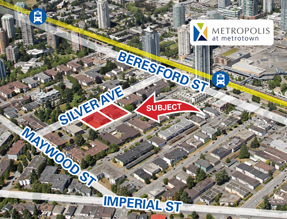 The properties at 6470 and 6508 Silver Avenue has been identified in Metrotown Downtown Community Plan for high-rise residential development.
Situated alongside each other, the lots have two three-storey apartment buildings with 83 rental suites.
According to the listing, the properties are five minutes away by foot from Metrotown and the shopping complex's SkyTrain station.
"This offering represents a rare opportunity to acquire a large-scale high-density multi-family development site in the heart of Burnaby's rapidly changing Metrotown core," reads the listing's brochure.
The previous city council of Burnaby has designated the Metrotown area as the city's "true downtown".
In recent years, the Metrotown area has seen the demolition of old rental apartment buildings to make way for new condo developments.
In the recent municipal election campaign, the demolition of rental properties and eviction of tenants were one of the main issues raised against then Mayor Derek Corrigan.
Retired firefighter Mike Hurley, who defeated Corrigan in the mayoral election, pledged a moratorium on developments in the Metrotown area that have not been approved yet.
In his platform, Hurley indicated that these developments will not go forward "until accommodation at the same rent levels can be found for residents who are being forced from their homes".
"The current Mayor has shown no empathy for Burnaby residents who are struggling," Hurley stated in his platform, referring to Corrigan. "That is unacceptable going forward, and we need solutions that allow people to stay in our community."
These solutions include working with "builders, other housing providers, and senior levels of government".
Addressing 'demovictions', which is a combination of the words 'demolition' and 'eviction', Hurley stated that the issue "extends beyond Metrotown where housing stock is aging".
"All planning must consider the needs of those who may be displaced," according to Hurley.