This article was written and published in the 2016 Year-End Goodman Report.
Since its implementation on August 2, 2016, B.C.'s 15% foreign buyer tax has had a notable cooling effect on the residential housing market and, some might argue, on the multifamily rental investment sector as well. While very few of the 124 buildings sold in the first half of 2016 actually went to offshore buyers, the newly introduced tax has nevertheless served to dampen the normally high enthusiasm for this asset class. In the second half of 2016, only 50 buildings were sold: clear evidence of slowing activity.
Still, 2016 was very active, indeed one of the liveliest in 25 years. Building sales and total dollar volume came in close to the banner year of 2015. For 2016, however, the key value indicator of average price per suite rose dramatically in most communities tracked.
Sale transactions
In Metro Vancouver overall, a total of 174 rental buildings changed hands in 2016, down 4% from the 181 sold in 2015.
Vancouver itself surged to 98 sales, up 26% from the 78 of 2015, while the suburbs experienced a significant drop to 76 from the 103 recorded in 2015, a 26% decrease. More specifically, amongst Vancouver neighbourhood transactions, the Eastside soared to 24 versus 14 in 2015, while Kitsilano registered 16 sales, up slightly from the 15 recorded a year earlier. South Granville increased to 17 sales versus 10 in 2015, while Kerrisdale increased to 8 as compared to 6 in 2015. Marpole at 13 sales declined slightly from 14 in 2015. The West End at 17 sales matched 2015's performance.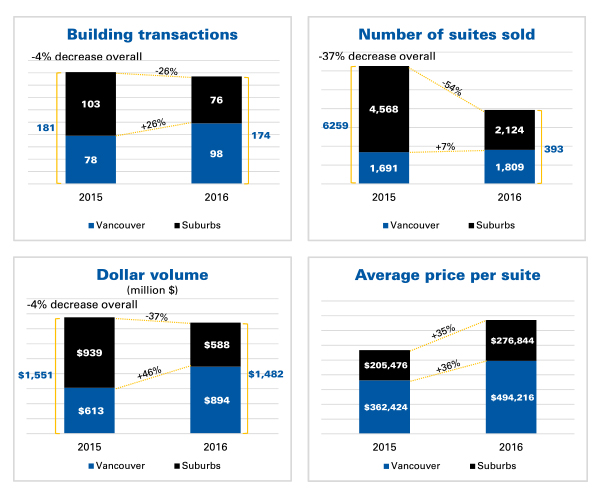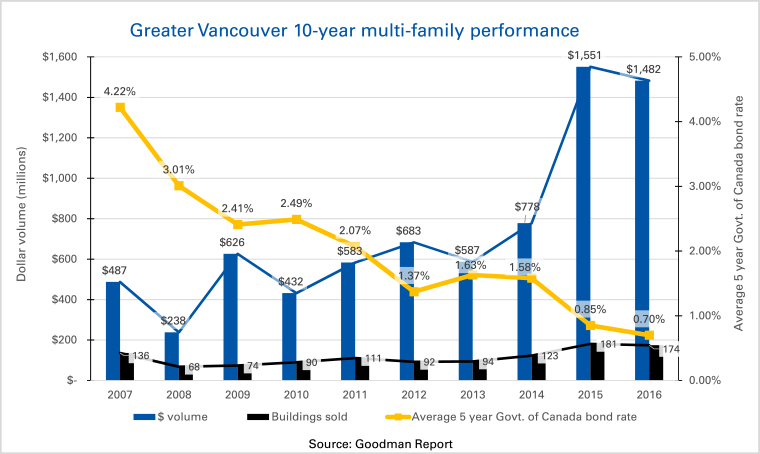 Sales dollar volume
Total dollar volume for Metro Vancouver came in at $1.48 billion, down slightly 4% from the $1.55 billion in 2015. Vancouver's total dollar volume, however, climbed dramatically to $894 million, a 46% increase over 2015's figure of $613 million. By contrast, suburban dollar volume experienced a severe decline to $588 million, representing a 37% decrease as compared to 2015's figure of $939 million.
Average price per suite
2016's overall average price per suite for Metro Vancouver increased by a staggering 52% to $377,000, from $248,000 in 2015. Specifically, Vancouver's averages increased substantially to $494,000, up 36% over 2015's figure of $362,000, whereas the suburban figure came in at $277,000 per unit, jumping up from 2015's figure of $205,000, a 35% increase.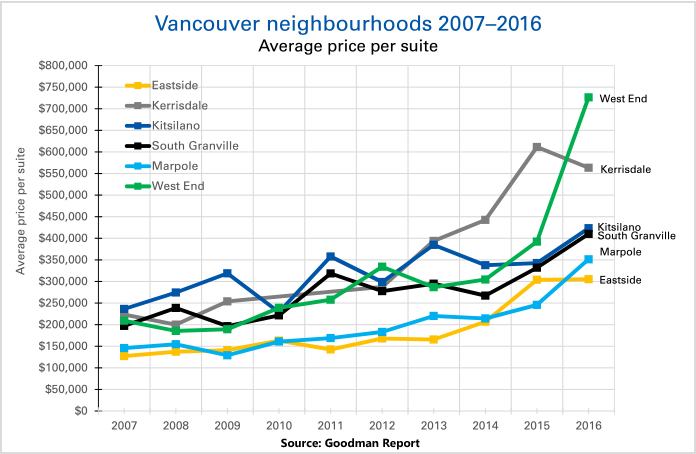 Vancouver neighbourhood highlights
For 2016, the average price per suite in five of Vancouver's seven distinct communities for 2016 versus 2015 demonstrated a decidedly upward momentum. Kerrisdale values declined to $563,000 per suite, down 8% over 2015's $611,000. The Eastside is essentially flat, at $305,000 in 2016 as compared to $304,000 in 2015. For the West End, average prices jumped to $726,000 per unit, up a whopping 85% over 2015's $392,000. Thanks solely to vigorous densification, the West End continues to experience sales of buildings slated for redevelopment (8 of the 17 sales fall into this category). This helps to explain the major increases in average suite value, where land value far exceeds the strata or inherent value using the income approach. Marpole witnessed a major escalation in pricing of 43% to $351,000 in 2016 as compared to $246,000 in 2015. This is due, in part, to 2 buildings acquired as redevelopment sites where the land value well exceeded the income value, plus a third building which was stratified. South Granville also increased, by 24%, to $412,000 per suite, compared to $332,000 in 2015. Similarly, Kitsilano climbed by 24% to $423,000 from $343,000 in 2015.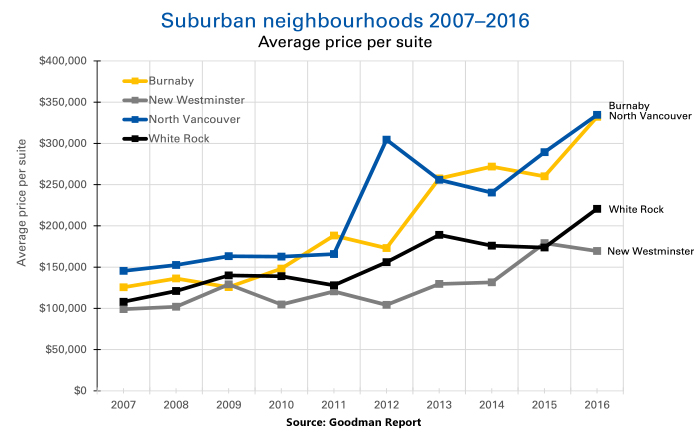 Suburban highlights
With respect to 2016's suburban activity, Burnaby, the perennial leader, had 30 building sales of which 17 went to developers, with the focus continuing to be in Metrotown. In 2015, there were 36 sales in total, 15 of which were slated for highrise condo development. Average prices escalated sharply in 2016 to $332,000 per suite, a 28% increase compared to $260,000 in 2015. New Westminster declined in both activity and average price per suite in 2016, with 19 sales at an average of $169,000 per suite, down from 22 sales at $179,000 per suite in 2015. Langley experienced only 2 sales in 2016 as compared to 9 in 2015, yet prices increased 34% to $213,000 per suite from $159,000 in 2015. North Vancouver saw a slight uptick in activity to 11 sales, as compared to 10 a year earlier with average price per suite climbing to $335,000 versus $289,000 in 2015, a 16% increase. White Rock recorded 3 sales in 2016, a similar number to 2015, with the average price per unit up to $221,000 as compared to $174,000 the previous year, a 27% lift.
On a lesser note, Coquitlam, Port Coquitlam, Surrey, Richmond and Mission each had 2 sales, while Maple Ridge had only a single transaction. West Vancouver, Port Moody and Ladner recorded no sales in 2016.
Goodman's performance
2016 was a blockbuster year for Goodman. Cynthia Jagger, formally an appraiser and director at Altus Group, joined our team as a commercial real estate broker. As for the numbers, we outsold the competition and were the highest grossing apartment sales specialists in Metro Vancouver! We successfully closed on 37 properties made up of apartment buildings and development sites totalling $240 million. Additionally, in the first month of 2017, we have sold 4 properties worth $180 million. Please don't hesitate to contact us for a no-cost, no-obligation evaluation of your property.