For sale
Metrotown development site
4630 Hazel Street, Burnaby
---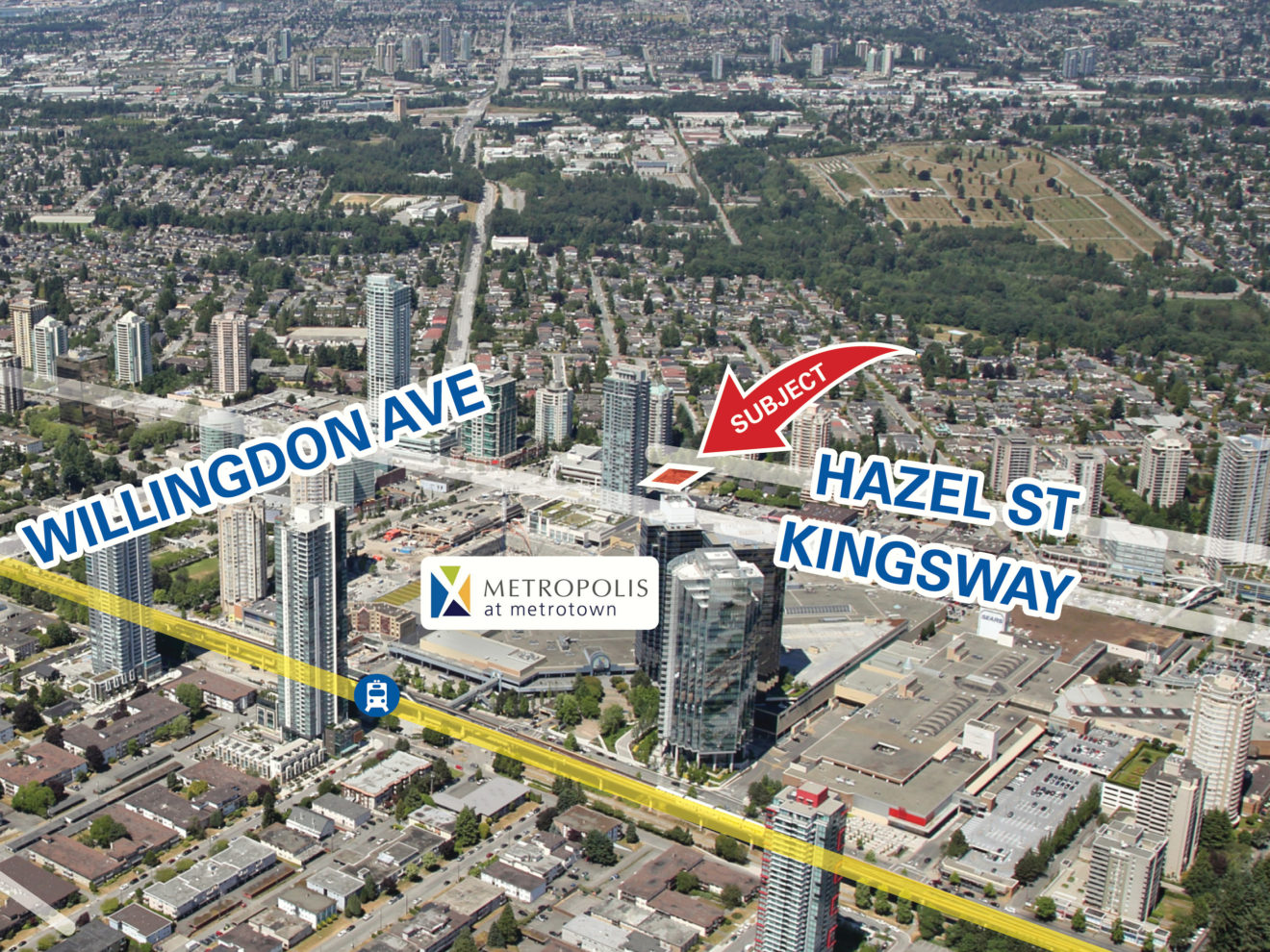 Property type
High density mixed-use development site
Floor space ratio
Up to 14.3 (see summary below)
Development potential
High Density Mixed Use RM5s/C3 for up to 180,294 SF
PID
011-307-919, 011-307-935
---
Overview
Strategic investment opportunity to acquire a 12,608 SF mixed-use high density development property just north of Kingsway, directly across from Metrotown. The property is currently improved with a single-family house.
The subject property sits adjacent to a vacant City of Burnaby owned lot (west of subject site) and abuts Anthem Properties' future mixed-use development that contemplates a mix of retail, office, residential rental, and market condo (east of subject site). Future likelihood of redevelopment envisions an assembly with neighbouring properties in order to construct a mixed-use high-density tower in one of the region's most popular transit-orientated neighbourhoods.
Overall development opportunity must meet the following site area requirements found in the Metrotown plan: the minimum frontage for any development consisting of a high-rise tower exceeding 16m (52.5 ft.) in height is 61m (200 ft.) and the minimum site area is 2,230m (24,000 sq. ft.).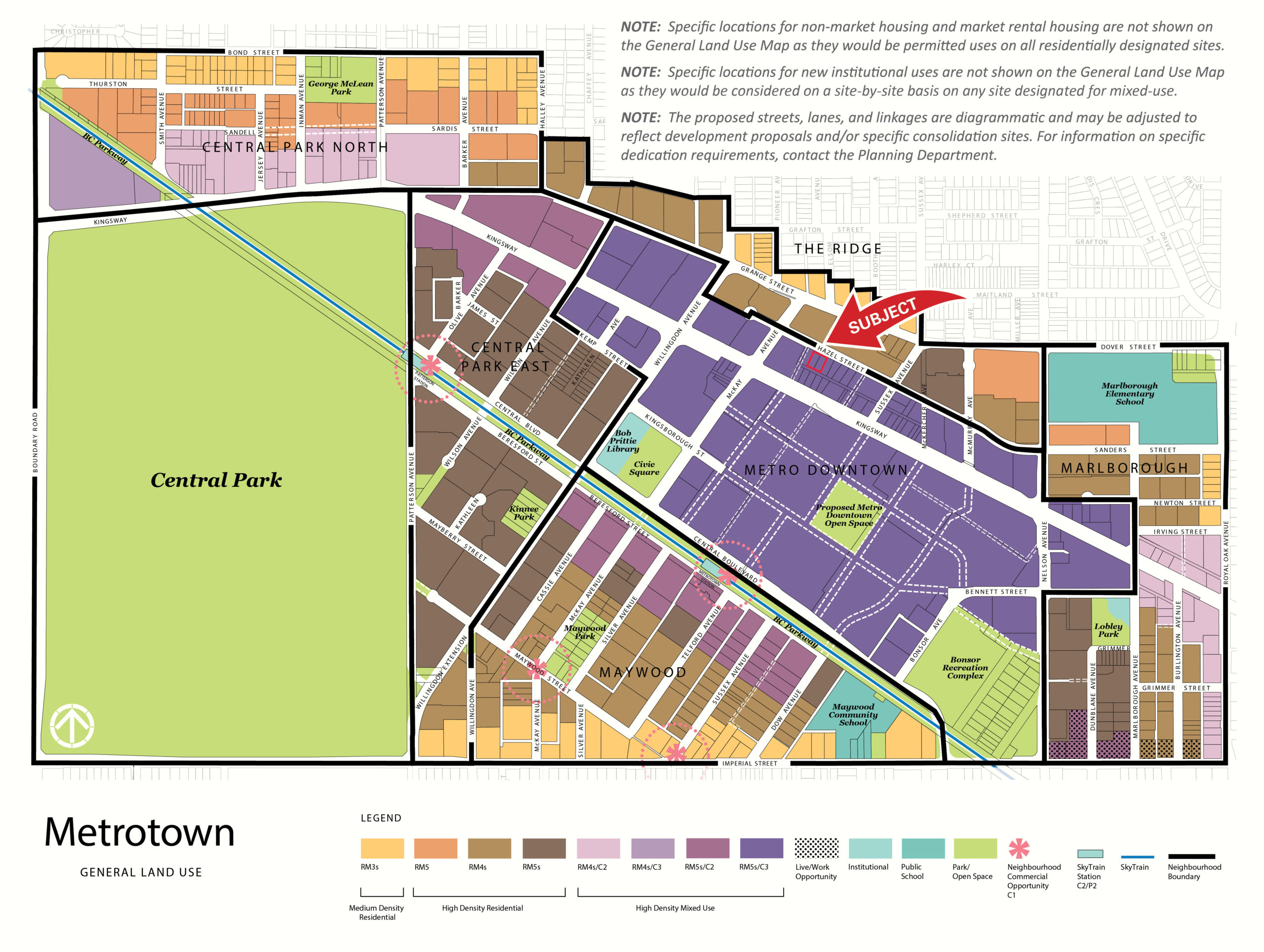 ---
C3 Zoning Opportunity
Commercial zoning allows for the conversion of up to 49% of the 6.0 FSR into rental development, provided that at least 51% of the FSR is used for typical commercial use. Rents for these voluntary units may be set to market levels.
Project must meet 20% inclusionary rental before adding voluntary rental. Additionally, the project must first utilize all RM/RMs residential density attributed to the site, including bonus density.
Density Summary:
| | | |
| --- | --- | --- |
| Maximum | FAR | Density |
| RM5s base | 3.40 | 42,867 |
| RM5s bonus | 1.60 | 20,173 |
| RM5r rental density | 2.20 | 27,738 |
| RM5s (density offset) | 1.10 | 13,869 |
| C3 (commercial) | 6.00 | 75,648 |
| Total | 14.30 | 180,294                                   |
---
Location
Located on Hazel Street, directly behind retail buildings fronting Kingsway, the site is close to many of the desirable Metrotown amenities. The property benefits from the rapidly changing improvements being made in the neighbourhood, including the near completion of Anthem and Beedie's 5-tower mixed-used community, Station Square, which features a mix of new retail and restaurant amenities including Earls Restaurant and Cactus Club.
Additionally, its Kingsway location provides convenient access west towards Vancouver and is within a short distance to the arterial Willingdon Avenue and Boundary Road. Finally, the site is within a short walking distance to Metrotown Skytrain Station.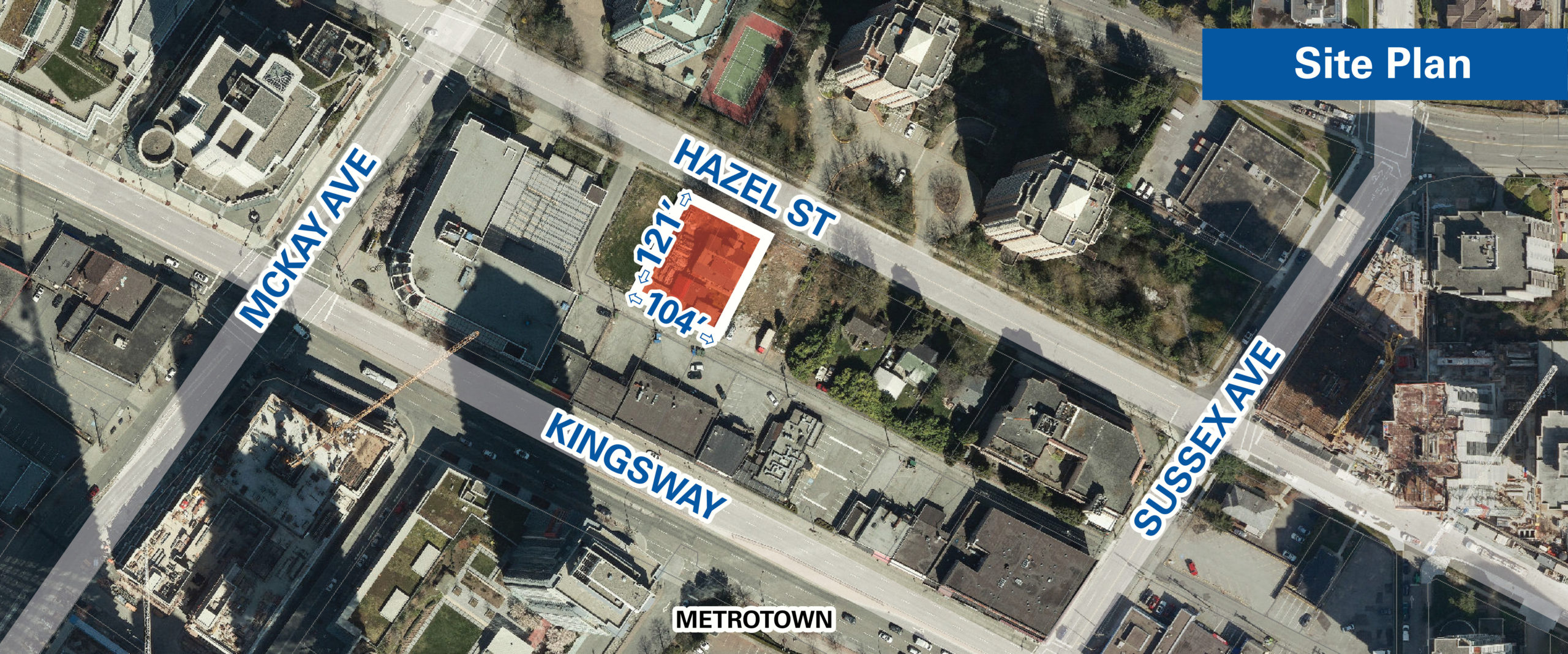 ---
Financials
Financing
Treat as clear title.
Assessment 2021

Land

Building

Total

Taxes 2021

$55,694

Notes

Contact listing agent for more information.
---
Gallery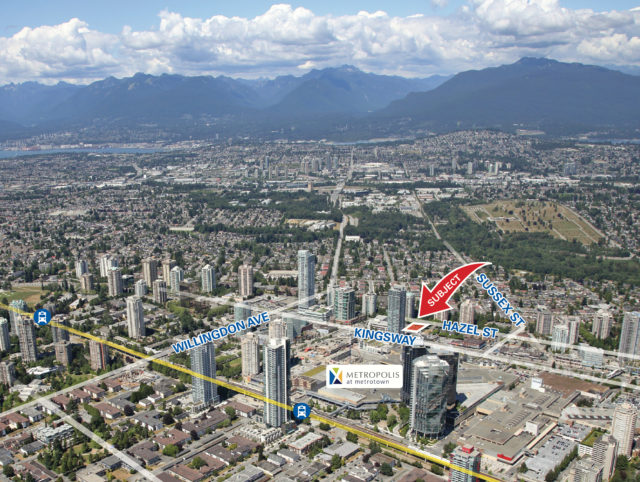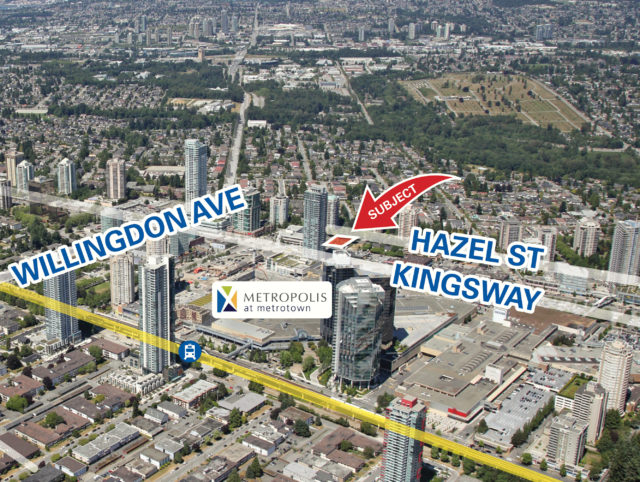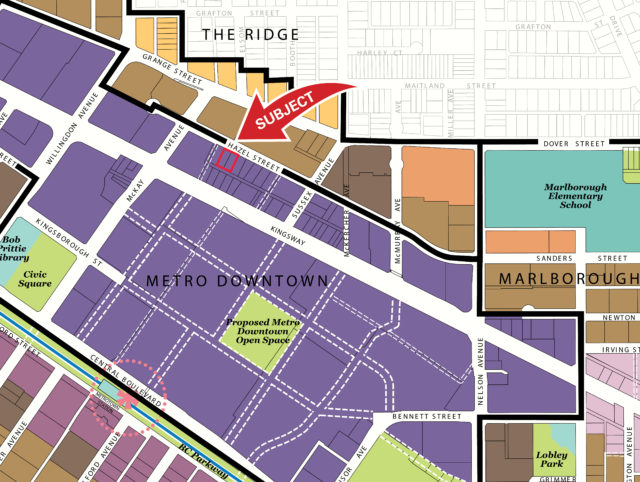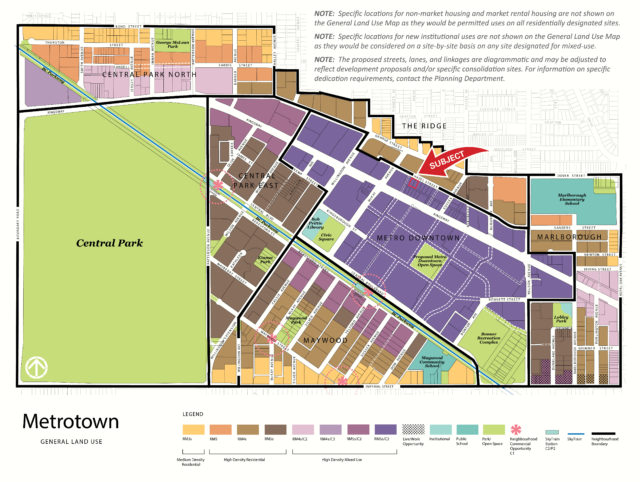 ---
Map