Reduced
BP-approved industrial site
105 & 109 175A Street, Surrey
$14,500,000
---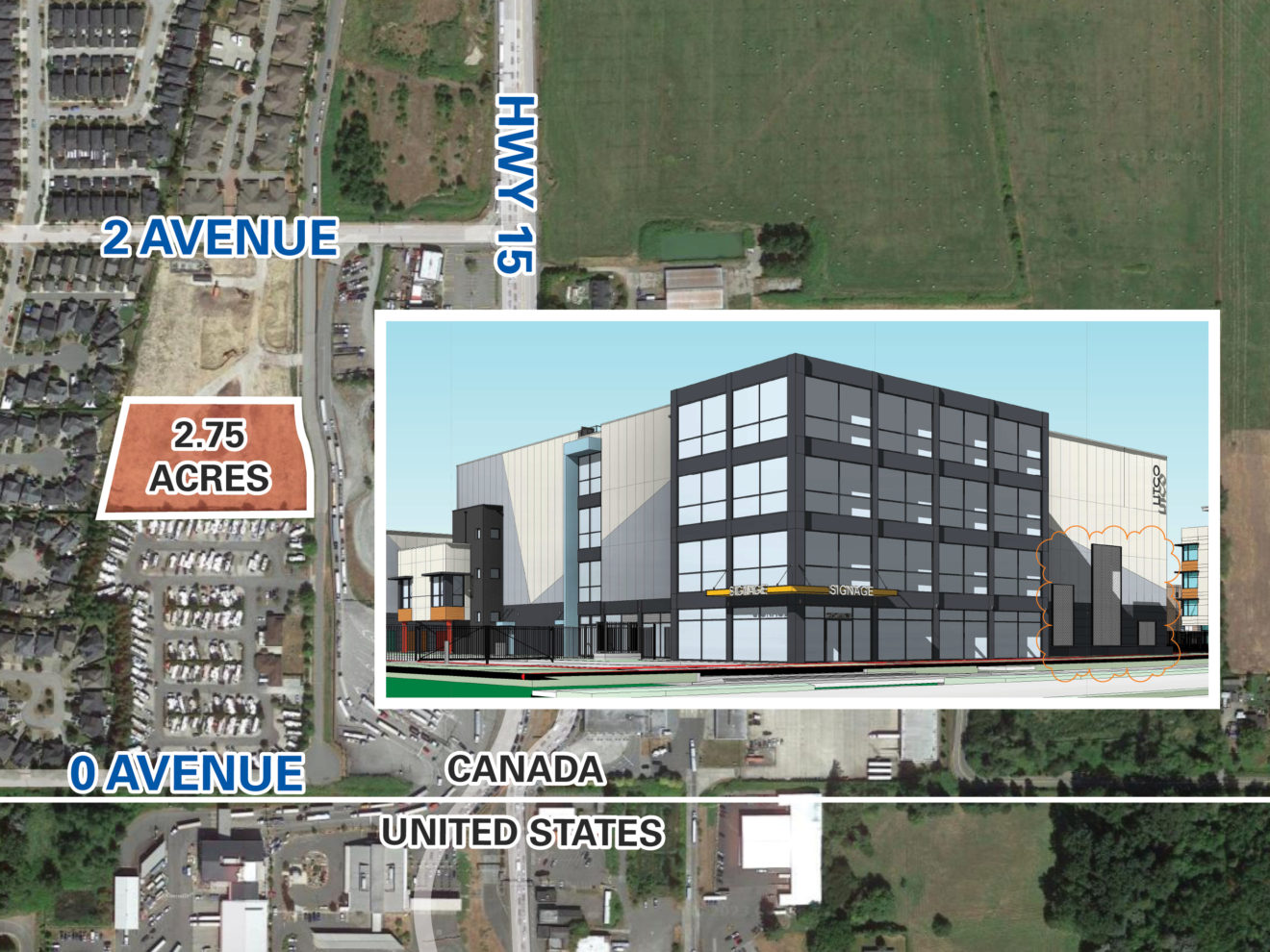 Property type
Industrial development site
Zoning
IB-3 - Business Park 3 Zone
Floor space ratio
1.0 FSR proposed
Development potential
Two-building self-storage project totalling 910 units and 119,518 SF of floor area
Legal description
Lot 2 Section 32 Block 1 North Range 1 East New Westminster District Plan EPP102805
---
Overview
Opportunity to acquire a 2.75-acre IB-3 industrial site in South Surrey with an approved building permit and all fees paid! This is your chance to step in and build a proposed two-building self-storage project totalling 910 units and 119,518 SF of floor area. The project is positioned to capitalize on increasing demand for storage units from both commercial and residential clients. Alternatively, a buyer may wish to develop the site under the flexible IB-3 zoning which offers several other uses. Option for share sale.
This high-exposure, cleared and level site is located one block west of the Highway 15 / Pacific Highway Truck Crossing into the United States.
The site is within minutes of the main Canada/US border crossing, while the surrounding Douglas neighbourhood is experiencing significant growth, including a new condo and townhouse project immediately north of the site and active proposals for mixed-use condo, townhouse and seniors housing projects within a two-block radius.
---
Land Use
The property is zoned IB-3 Business Park 3 and designated for Mixed Employment in the City of Surrey Official Community Plan (OCP). Uses permitted include light industrial, office, warehouse, distribution centres, and liquor manufacturing with tasting lounge. Permitted accessory uses include eating establishments (excluding drive-through), certain personal service uses, general and community service uses, assembly halls, child care centres, and caretaker units. IB-3 zoning allows up to 1.0 FSR and a maximum 60% lot coverage.
The property has an approved building permit in place for a two-building self-storage facility with a total of 910 units and 119,518 SF of floor area, including a 1,481 SF caretaker suite, an 832 SF management office, and 59 surface parking stalls. Building permit is ready for pick up at the City of Surrey upon fee payment.
Proposed two-building
self-storage project
Storey
Floor
area (SF)
Storage
unit count
Storage
area (SF)
Building 1
105 175A Street
4 storeys
77,779 SF*
588 units
47,363 SF
Building 2
109 175A Street
3 storeys
41,739 SF
322 units
27,467 SF
Total
119,518 SF
910 units
74,830 SF
* Includes a 1,481 SF caretaker suite and an 832 SF office
---
Available reports & documents
BP submission drawings
Geotechnical report
Environmental report
Issued development permit

---
Location
The property is located on the west side of 175A Street, a half block south of 2nd Avenue, and less than 200m from the Canada / USA border. The high-exposure site looks directly onto the Highway 15 / Pacific Highway Truck Crossing and is only 1.5 km east of the Peace Arch border crossing.
A number of freight and transport companies are located just east of the site servicing this busy cross-border shipping corridor. North and west of the site, the Douglas neighbourhood is a growing residential community, with a number of active multi-family and mixed-use projects within a two-block radius. The property offers convenient access from both Highway 15 and Highway 99, providing connections directly into the core of Surrey and the rest of Metro Vancouver.
---
Financials
Financing
Treat as clear title
Assessment 2023

Land

Taxes 2023

$80,358

Notes

Please contact listing agent for more details.
---
Gallery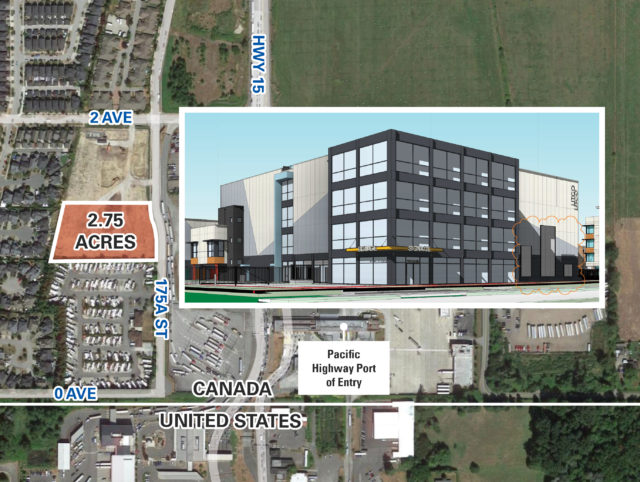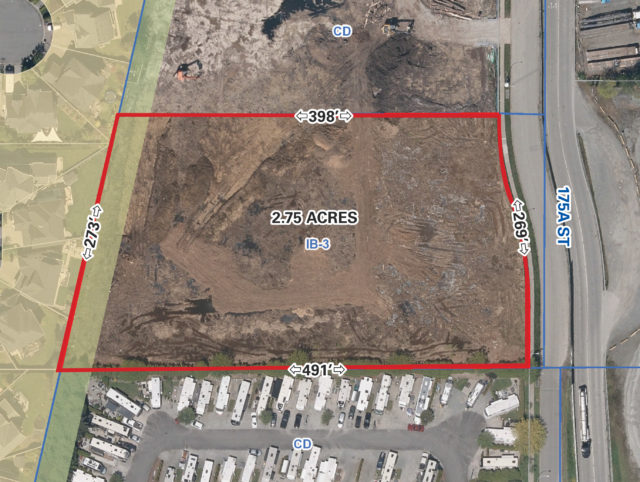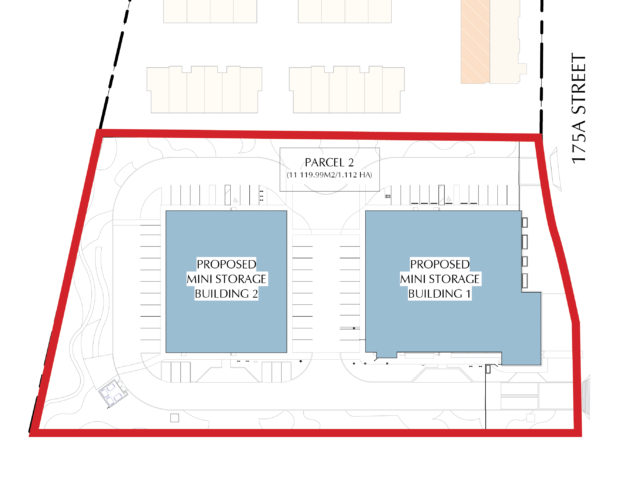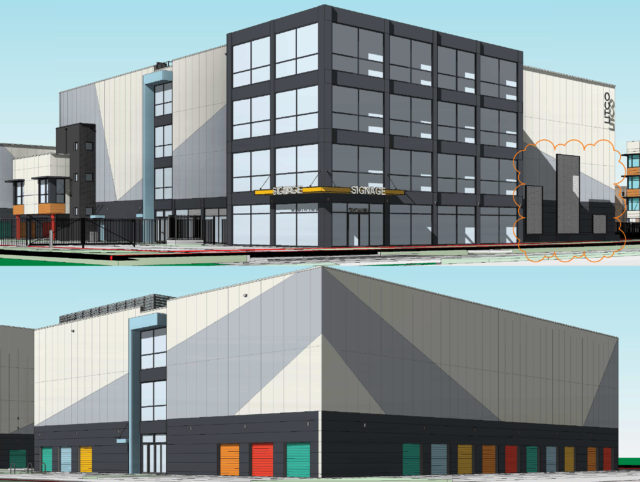 ---
Map