Jon Meyer, News Talk 980 CKNW
February 27th, 2017
Bulldozing old three and four storey apartment buildings in established neighbourhoods could cure what ails Vancouver's dismal rental vacancy rate.
But the city imposed a temporary moratorium on the demolition of old apartment buildings in 2007, but it's still in place today.
It means some owners of old apartment buildings who want to tear them down and replace them with four or five times as many rentals, can't because of this one-for-one policy.
The policy is in place in neighbourhoods like South Granville and Kerrisdale on RM3 and RM4 zoned properties
This rate of change policy was meant to stop the erosion of old apartment rentals from being redeveloped into condos.
While the move was meant to protect rental stock, Principal at HQ Commercial David Goodman says it's having the opposite effect.
"The city's intentions are noble, but they are forfeiting the opportunity to create new rentals. While protecting the 20-30 suites in these old apartments, the city is blocking the development of 60-100 rental units. Yes, the tenants are being protected but the problem is new tenants coming in have no place to live."
Goodman is calling for a five-for-one replacement policy instead.
Vancouver's Housing director of policy and projects Abigail Bond says they have to be cautious because new rents are always more expensive than existing rents.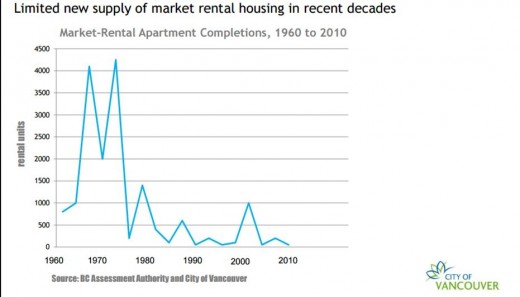 Bond says the city has made a few exceptions to the policy in some newly community planned neighbourhoods, including in the West End, the Grandview-Woodland and Marpole community plans.
Bond says they are very careful when making these four-for-one or five-for-one changes.
"We need to be careful about making changes to the degree of change, the pace of change because we don't want renters to be displaced in our city."
Bond says they have heard from many realtors and developers about their ideas about what the city might do about its rental housing policy and right now they are going through a housing strategy reset and challenging themselves and their policies to see what they can do better.
"Right now the City of Vancouver is creating more rental units than any other municipality in the region, we are also protecting more rental units."
Goodman has been critical of the city's track record.
The City put out a news release over the Christmas holidays saying 2016 surpassed all previous years, with over 1,800 new rental units approved.
Goodman called that disgraceful, saying it should be around 5,000 like back in the 70s.
He points out that in Seattle, some 14,000 apartment building approvals were given this year.
Canada Mortgage and Housing Corporation data, which Goodman says is the holy grail of data, shows Vancouver added 2,227 rental units over the past six years, a mere four per cent increase.
Goodman also calls the city's rental 100 program a stop-gap measure that he feels is very ineffective.
To listen to David Goodman's radio interview, click here (13:28 to 25:49).